In Hooked On You (Chicago Rebels #3) by Kate Meader, Meeting her two half-sisters was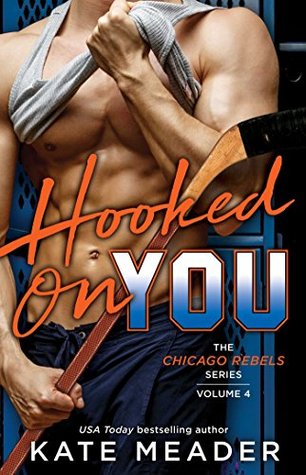 enough of a mind meld for Violet Vasquez, let alone learning that the stipulation to getting her share of her absentee father's will is to run his failing hockey team along with them. It couldn't come at a better time in her life, though. After a major health crisis, Vi is learning to live each day to the fullest. The money will help her empty bank account so she can travel, go to college…whatever she wishes. But one sexy Highlander, Rebels captain Bren St. James, has Violet sticking around Chicago long after she would normally have taken off. She doesn't know what it is about Bren, but she just can't help herself from flirting with him. With a multitude of his own issues to face, though, Violet knows they'd both be better off if she left. Too bad neither her mind nor her heart will let her take her leave.
'Violet found it virtually impossible to act like a sane female around St. James. There was something about his grumpy, beastly exterior that made her itch to provoke a reaction.'
For almost a year, Bren has been working every single day to improve his life. Step one was rehab and AA to battle his alcoholism. Step two was making amends to his fellow Rebels and his two daughters. He still has a little ways to go before he can think about a romantic relationship of any kind. But the minute Bren sets eyes on vivacious Violet, he can't stop thinking of her. The audacious woman is everything he's ever dreamed of. Although after the things he's done–and is still overcoming–it has him thinking he's not worthy of an angel like Violet. When she steps up as a fill in nanny for his sweet girls, Bren is in her debt. He'd much rather be in her everyday life, her fantasies, and her future, though. But that may be too much to ask for.
'His body came alive around her, and alive was dangerous. Alive was the opposite of numb, and numb was his best defense against the demons whispering in his ear.'
To quote our feisty and fantabulous heroine Violet, Hooked On You was a "delicioso" epic love story. Didn't hurt that it featured a broody Scotsman hero who will surely sweep readers off their feet just like he did with his lovely lass, Violet.
'This wasn't a textbook or fairy-tale kiss. This wasn't smooth or gentle. It was hard and needy and unrepentant.
It was Violet.
It was Bren.
It was everything.'
While it would be easy to read this as a standalone, if you've been following this series from the beginning then you've seen Violet and Bren circling each other the whole time. And boy didn't the sparks go flying here! Sadly, this is the end of the series according to Kate Meader, but thankfully she sent her characters off in such a lovely way that I think readers will be swooning by the end. Although we get to see all of the couples we've met so far and get caught up with how their relationships have progressed–along with the Rebels themselves facing the playoffs for the Stanley Cup–the focus was certainly on Bren and Vi. And rightly so considering what a great couple they made. *sigh*
So I have to say that even though I'm not sassy or outspoken (or latina) like Vi was, I think she's the heroine I identified with the most in the series. She's a huge music lover, particularly a Stevie Nicks fan–whom I also adore–and she was a breast cancer survivor, same here, so I understood her pain. (Literally…) As much of a great time as it was to see Vi in all her spirited, smart-mouthed glory, what I really loved was getting to see the true woman behind the brave face she wore for everyone. And seeing a more vulnerable, softer side to her. That was what ultimately brought big grumbly Rebels captain Bren down to his knees was seeing that vulnerability.
I ended up liking our tortured hero Bren just as much as I hoped, with his Scottish accent and quiet but intense personality. He was stuck in his own head most of the time, trying to beat his alcoholism and figure out how to deal with his ex-wife as well as get his beloved daughters Franky & Cat into his life on a daily basis. Oh, and Bren's daughters? They were simply awesome–and superbly written by Meader. I thought they added an element of fun and a depth to the story that really brought home Bren's struggles and what he was working so hard for–to be there for his girls. There were also some comical moments they had as a family with lovely nods here and there to 80s music and movies which I think readers will enjoy and which had me laughing uproariously. (The restaurant scene…OMG!!)
With stellar writing as always from Meader, Hooked On You was a story about recovery, redemption and of course, romance. It was inspiring, scintillating, and held this reader in its thrall from page one.

Book Info:

Publication: Published May 7th 2018 | Pocket Star | Chicago Rebels #4
The steamy Chicago Rebels series returns with this racy and sassy tale of embittered hearts, second chances, and going for the goal—on and off the ice.
Violet Vasquez never met her biological father, so learning he left his beloved hockey franchise—the Chicago Rebels—to her is, well, unexpected. Flat broke and close to homeless, Violet is determined to make the most of this sudden opportunity. Except dear old dad set conditions that require she takes part in actually running the team with the half-sisters she barely knows. Working with these two strangers and overseeing a band of hockey-playing lugs is not on her agenda…until she lays eyes on the Rebels captain and knows she has to have him.
Bren St. James has been labeled a lot of things: the Puck Prince, Lord of the Ice, Hell's Highlander…but it's the latest tag that's making headlines: washed-up alcoholic has-been. This season, getting his life back on track and winning the Cup are his only goals. With no time for relationships—except the fractured ones he needs to rebuild with his beautiful daughters—he's finding it increasingly hard to ignore sexy, all-up-in-his-beard Violet Vasquez. And when he finds himself in need of a nanny just as the playoffs are starting, he's faced with a temptation he could so easily get hooked on.
For two lost souls, there's more on the line than just making the best of a bad situation… there might also be a shot at the biggest prize of all: love.