I love a great MC book and Hunter (Bad Boys of Retribution MC #1) by Rie Warren is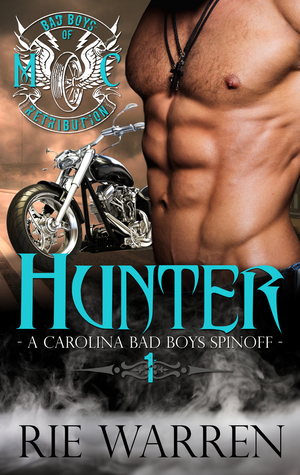 just that. I was hooked from the first page to the last.
Hunter has done a lot of bad things in his life. Secret identities, hired gun, special ops, baddest of the bad, he has done things, seen things knows things, that nobody should ever have to endure. The only good things in his life are his little boy Jake, and the new hottie Jessica "JB (Jailbait)" Barnes.The moment that he lays eyes on JB he wants her. No, he wants to mark her as his. Make sure that everyone knows it too. But his dark past and the things he has done make him, as he believes a bad person, not someone that is worthy of JB.
Jessica knows that Hunter has things in his past that he is not willing, not able to share with anyone. But she sees through he BS and sees the man that he is underneath all of the scared, beaten and nightmare driven facade. Hunter only feels at peace when he is with Jessica, and she has never felt safer than when she is in his arms. But when a devil from the past comes back to threaten Hunters family and Jessica, he will do anything, including selling his soul to the devil himself to insure that they are safe.
I loved the interaction between Hunter and Jessica. Hunter is sweet and caring, although he acts like a tough guy. Jessica stands up to him, calls him on his bull and insists that he fights for them, fights for his son and their love instead of giving in and giving up. The protective side of Hunter is so wonderful and his little boy Jake is just so darn cute. I look forward to reading more in this series.
Book Info:

Publication: June 2nd 2015 | Rie Warren | Bad Boys of Retribution MC #1
From the world of Carolina Bad Boys! Hunter Sexton is too hot to handle . . .
Hunter:
My call-sign is GHOST. My roadname, too. I keep my head down, stay off the grid, fly under the radar. I'm the rough, gruff, good guy who does bad things for pay.
JB is my most recent mistake. The MC babe is innocence wrapped up in a rockin' body. Don't get me wrong, she has a wicked side, too. She's kickass in bed, when we make it that far. But she's the ultimate wholesome good girl, and I don't want to dirty her up.
Hey, no one said life was all fun and games, right?
JB:
Good girl? I prefer to think of myself as a rebellious hellion. I live my life like I ride my bike: carefree, in your face, and full throttle. My soft side? Well, that's reserved for my job.
I'm not looking for love, and I certainly don't need any relationship complications. Too bad complicated is the only way Hunter comes.
He's a quiet, deadly storm. He prowls. He hunts me. He wants me. He's sexy, sinful . . . secretive. Hunter will turn my life inside out no thanks to his dangerous past about to come back and bite us both in the ass.
Who's gonna save us now?
Warning: Graphic sex, graphic action, graphic language. Triple X caution.