In Bed With His Rival by Katherine Garbera: Piper Holloway has worked hard to achieve success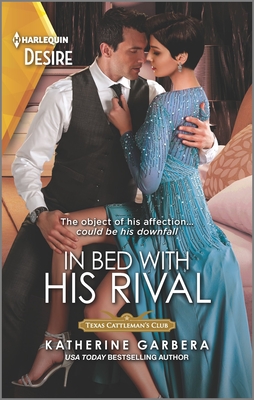 and her gallery has become well known. Past hurts have put love and romance on the back burner for quite some time. Her older sister, Ava, has needed her after the death of Ava's husband Trent. Trent's best friend Keith seems to have done more than just comfort the grieving widow and the family doesn't really trust him.
Things get worse for Ava as her family business is suddenly in trouble and under investigation.The scandal that affects the Wingates has ripple effects and even affects Piper and her work.
Brian Cooper is a lawyer and the nephew of Keith. He has been attracted to Piper for a long time even though she is eleven years older than he is. He feels if Piper could just get to know him, he would stand a chance with her.
Even with the age difference, Brian seems mature and knows how to treat women of all ages. He sees Piper as a sexy, creative woman and age is just a number as the adage goes.
The author blends some spicy romance with suspense in just the right amounts. Even though this book was #6 in a series written by various writers, there were plenty of details so I didn't feel lost or confused by various family matters.
Author Katherine Garbera has legions of fans, so In Bed With His Rival is bound to be a big hit with longtime readers, as well as garner new attention.

Book Info:

Publication: November 10, 2020 | Harlequin Desire | Texas Cattleman's Club: Rags To Riches #6
The object of his affection could be his downfall in this Texas Cattleman's Club novel from USA TODAY bestselling author Katherine Garbera!
An older woman. A younger man.
An attraction these rivals can no longer resist.
High-powered attorney Brian Cooper has desired Piper Holloway for years. The successful gallery owner is confident, sexy—and on the other side in a legal fight between their families. But when the opportunity strikes, finally inviting Piper to his bed is nonnegotiable. When explosive secrets come to light, will their delicious but forbidden affair withstand the ultimate test?