Indecent Exposure (The Academy #2) by Tessa Bailey: Jack is sexy, charming when he wants to be, and on a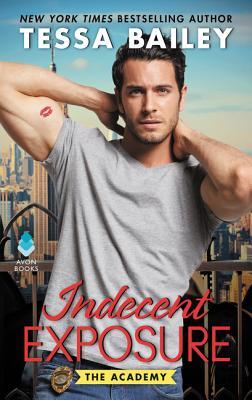 self-destructive path. He's only in the police academy after losing a bet to his best friend and sees the job as a way to pay the bills and take care of his mom. He's a loyal, dedicated, and protective son with an interesting and complicated childhood. He doesn't believe in marriage, but he does believe in one-night stands.
Katie is thrilled to finally be in New York City and experiencing all the Big Apple has to offer. It's a much needed break after the intensity of training for and winning an Olympic gold medal for Ireland. When she's not working on her NYC to do list, she'll be working as a firearms instructor for the NYPD's newest recruits…to include Jack.
Jack is more than surprised to see the sexy redhead again. Katie is definitely different in that she didn't immediately fall at his feet or in his bed. She's also more than willing to call him out on his lack of professionalism. She challenges him and makes him work for her time and attention.
"Let's make a deal," I say, struck by inspiration. "You let me come tonight and I promise, I won't make a move on you."
A few notes of laughter trip out of her mouth, her shoulders relaxing. "Is that meant to be noble?"
"If you knew how bad I want my hands on you, noble would be an understatement."
While Katie can only be a fling, she makes Jack want to be more. Katie sees the potential in him and has high expectations for what he could accomplish. Jack helps her to have fun and to put her needs and desires first. Their chemistry is off the charts and Jack is possessive, which is an entirely new feeling for him.
"I believe in you."
"Why?" he rasps, pressing a kiss to my mouth. Another. "Why, Katie?"
"Sometimes we're afraid to try, thinking we won't be enough."
Indecent Exposure is engaging, entertaining, hot, and sexy. Tessa Bailey pulls you in and makes you root for Katie and Jack, as individuals and as a couple. Ms. Bailey created a strong cast and wrote entertaining, heartbreaking, and heartwarming interactions. Indecent Exposure can be read as a standalone in this series. Fans of Lorelei James and Jaci Burton will enjoy Indecent Exposure.

Book Info:

Publication: January 30th 2018 | Avon | The Academy #2
Is there a problem, Officer?
Jack Garrett isn't a police officer yet, but there's already an emergency. His new firearms instructor—the one who just dropped every jaw in the academy gym—is the same sexy Irish stranger Jack locked lips with last night. The Olympic gold medalist and expert markswoman is now officially off-limits, but Jack's never cared much for rules . . .
Katie McCoy's been cooped up in a shooting range for too long. A wild love affair is just what she needs to let loose, though she never imagined it would be with her smokin' hot trainee. She cannot get involved with Jack—but a quick fling? Perfect. Falling hard for a charismatic recruit with an equal amount of sex appeal and secrets? Bloody stupid.
Jack's charmed the pants off plenty of women (literally), yet few have ever looked beyond his perfect surface. Until Katie. He'll do anything to keep her in his life . . . except tell her about his past. But a tiny lie of omission never hurt anyone, right?