Innocent's Nine-Month Scandal by Dani Collins is a sexy 'unexpected pregnancy' romance and a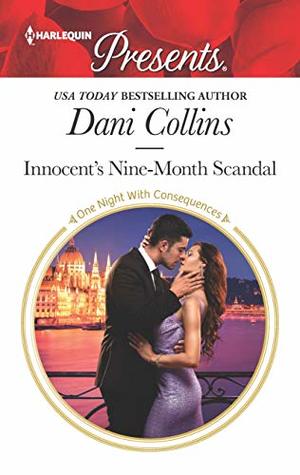 companion to the also enjoyable A Virgin to Redeem the Billionaire. Both stories take place concurrently and star two cousins on a quest to find their grandmother's fabled pair of earrings that helped her establish herself in America.
Rozella 'Rozi' Toth has arrived in Hungary to convince Viktor Rohan, a relative of her cousin Gisella to sell her an earring that once belonged to their grandmother. Their family links are somewhat complicated but the women are lifelong friends and want to retrieve the earrings that they were told were given to their grandmother by her first love Istvan just before he died. She sold one in Hungary (that Viktor now has) in order to get to America with her unborn child, Istvan's baby, and sold the other on arrival. She met her soon to be husband and the Barsi jewelry empire was established. Both Rozi and Gisella are part of the family jewelry business as designers and their interest in the earrings is personal and professional.
Viktor has no interest in giving Rozi the earring that he believes was stolen by Rozi's grandmother Eszti according to what his mother was told. But he's not above succumbing to the instant attraction between them in a passionate encounter. The next morning when the earring is missing, he assumes Rozi stole it, leading to a short stint for her in jail (!) until he discovers that one of the women his mother is trying to set him up with hid the earring out of spite. When Viktor gets Rozi out of jail and takes her to his country home to avoid the paparazzi, they realize that there's a chance she could be pregnant – and indeed she is. He insists on marriage, but after their rocky start, can they find their way to a happy ending?
I enjoyed this family focused romance, as well as its companion story! They can both be read as standalones though this one reveals more of the plot of A Virgin to Redeem the Billionaire (which was released first) than vice versa. Viktor's beautiful and stately home as well as the lovely Hungarian countryside make for a delightful and unique setting. I found the tale of the earrings – what's been told to the family heirs and what the truth really is to be an interesting secondary storyline.
Viktor has reasons to be mistrustful of women after his own fiancee cheated on him with his brother (now deceased). He has a strained relationship with his mother and her constant machinations to set him up with other women are tiring. With Rozi pregnant, he doesn't have to worry about that anymore as he plans to marry her, though he's still not completely sure that her getting pregnant wasn't all part of some plan on her part. It doesn't stop them from sharing some sexy and emotional love scenes while he sorts through his feelings. He makes some foolish decisions that result in him having to earn back Rozi's trust before they can get their HEA.
Rozi never expected to break her virginity pact that she had with her cousin Gisella with someone like Viktor but he was too compelling to resist. His next actions, including having her arrested, have put them back on uneasy footing even when she discovers she's pregnant. It doesn't stop her from being attracted to him (to her chagrin). She suffers from some quite debilitating morning sickness later on in the story. A scandal back in New York threatens their fledgling relationship, but also pushes them to resolve their differences making their happy ending a very satisfying one. I recommend both stories in this duology!
Book Info:

Publication: Mar 19, 2019 | Harlequin Presents | One Night with Consequences
Control is everything to billionaire Viktor Rohan. Then Rozalia Toth appears on his mansion's doorstep, looking for a family heirloom, and throws his world into chaos! Her sweetness intrigues him beyond measure…and as their inescapable chemistry explodes, Viktor realizes Rozi's innocence isn't an act! But their passion has consequences, and Viktor refuses to let scandal ruin his family again. Their baby will be legitimate! And Rozi? She will be his…