Last First Kiss by Lia Riley: The characters in this book are wonderful. There's Annie,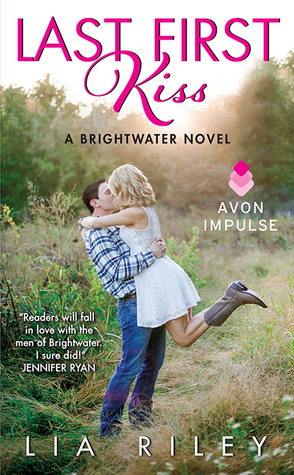 struggling to do what's right for not only her son, but also for her sister, father, and for herself. She never felt like she belonged in Brightwater, with the exception of the times she spent with Sawyer when they were younger.
Coming back as an adult, she still struggles with her insecurities about fitting in and making friends. Through the book, Annie finds the confidence to stand up to people who she's feels are against her.
Sawyer always cared for Annie, but a situation at a party had her feeling like he was making fun out of her with the rest of the crowd. He takes his time showing her that he truly cared about her both in the past and in the present. I loved how he accepted Atticus, Annie's young son. Even though he was awkward and uncomfortable with him at first, he warmed up and offered to step up and be the male role model in his life.
Last First Kiss by Lia Riley is a cute second-chance story. There's a little bit a drama (especially between Annie and Sawyer's grandmother), a little bit of laughter, and a lot of heart.
Book Info:

Published: June 23, 2015 | Avon Impulse | Brightwater #1
Pinterest Perfect. Or so Annie Carson's life appears on her popular blog. Reality is… messier. Especially when it lands her back in one-cow town, Brightwater, California, and back in the path of the gorgeous six-foot-four reason she left. Sawyer Kane may fill out those wranglers, but she won't be distracted from her task. Annie just needs the summer to spruce up and sell her family's farm so she and her young son can start a new life in the big city. Simple, easy, perfect.
Sawyer has always regretted letting the first girl he loved slip away. He won't make the same mistake twice, but can he convince beautiful, wary Annie to trust her heart again when she's been given every reason not to? And as a single kiss turns to so much more, can Annie give up her idea of perfect for a forever that's blissfully real.