In Lone Star Valentine by Cathy Gillen Thacker, Lily McCabe is the town Mayor and as such has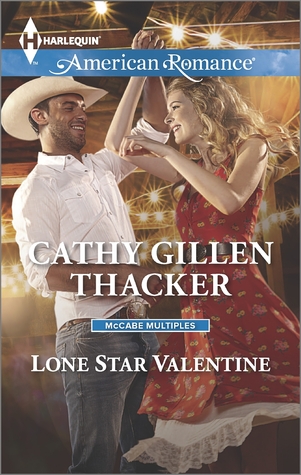 to look for ways to improve the town, without that many funds available. Which also means that she doesn't have that big of an income, so when the father of her son Lucas comes into town demanding that they change the custody arrangements, she is afraid that she will need more help than she can afford.
Gannon Montgomery and Lily used to be very close friends in college, but after she started dating her ex, their friendship ended. But that doesn't mean that he doesn't regret the way that things ended, and that he wants a chance to change things between them, for no matter how much times has passed he still has feelings for her. Therefore, when her ex shows up and she is without legal counsel, he decides to barge in and be her advisor. She may also be a lawyer, but he specializes in family law and he won't let her be run over by her ex and his entire posse of lawyers and everyone else he brought along.
Lily doesn't want to accept Gannon's help, but if she wants the best for her son, she will need to swallow her pride and let him help. She was already afraid of the time they had to spend together since he is going to be on of the judges for the chili cook-off, but now they will have to spend even more time together as they go over the case and see what are the best steps to take in order to keep things the best way possible for Lucas.
The more time Gannon and Lily spend together the more their past attraction and chemistry resurfaces. But it will take a lot of patience and determination from Gannon in order to get past Lily's insecurities and reluctance to date or have any type of personal relationship besides dedicating herself to her son. But his best bet is to be there for her and support her while she goes through her fight against her ex.
Gannon is a very likeable character and I loved that he cared and supported Lily even when she wouldn't allow herself to rely on anyone. For me the best was how Gannon won Lucas over and gave him the father figure that Lucas was missing his entire life. Lily is a strong woman, but she hid behind her power and her son to hide all her insecurities So seeing how Gannon broke down all her walls and burrowed himself into her life was really fun.
If you want a sweet and entertaining read, don't miss Lone Star Valentine by Cathy Gillen Thacker.
Book Info:

Published February 3rd 2015 by Harlequin American Romance Series #1534
COMPROMISE…OR ALL-OR-NOTHING?
The heart-stopping attraction's still there, but today Lily needs only one thing from old flame Gannon Montgomery—the best damn legal counsel ever. The stakes are high—custody of Lily's son, Lucas. And the rules are clear. Lily's not giving Gannon the chance to break her heart again. They can be friends. That's all.
Not enough, thinks Gannon. He's only in town to sell the family ranch, but Mayor Lily McCabe makes sticking around seem pretty attractive. He can see the desire in her eyes every time they're thrown together. And with the court case and the Texas chili cook-off he's been dragged into, that's a lot. As the stress grows, so does the attraction. But Lily won't compromise, and Gannon can't let go. Someone's gotta give!