Lover Undercover is the second book I have read by Samanthe Beck and it will definitely not be the last! If you like a hot, steamy romance, this book is for you.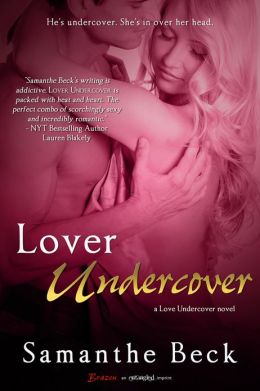 The story is about identical twins Kylie and Stacy Roberts and their lives as young adults in Los Angeles. Kylie is a yoga instructor and Stacy is a stripper. Both have big dreams for the future; Kylie wants to own her own yoga studio and Stacy wants to be an actress. Unfortunately, Stacy breaks her leg and Kylie reluctantly agrees to fill in for her until her leg heals. So that Stacy will not loose her job, Kylie becomes Stacy the stripper.
Unluckily, Kylie discovers a dead body outside the strip club after one of her shifts. She meets gorgeous Detective Trevor McCade, who is assigned to lead the homicide investigation. He and Kylie spend a lot of time together and they begin to have feelings for each other. As part of the investigation, Kylie privately dances for him and their relationship just gets hotter and hotter. All the while, Kylie is masquerading as Stacy.
If you like hot, well written romances with a bit of mystery, read this book.
Book Info
Publisher: Entangled: Brazen (April 22, 2013)
He's undercover. She's in over her head.
Yoga instructor Kylie Roberts is the good twin. At least she was—until an accident forces Kylie to step into her twin's sexy stilettos at a posh Hollywood "men's club." But nothing could've prepared Kylie for the dead body in the club's parking lot or the ridiculously hot detective who insists the killer is targeting her regulars.
Detective Trevor McCade needs Kylie's help to draw out the killer. It means long nights undercover and long dances where Kylie's body tempts him with sensual promises. Dances that leave them both wanting more. But despite Kylie's hidden identity and the danger lurking in the shadows, it's only a matter of time before Kylie and Trevor take this undercover operation under the covers…