Make Me Want by Katee Robert is the first story in her steamy romance series Make Me, part of Harlequin's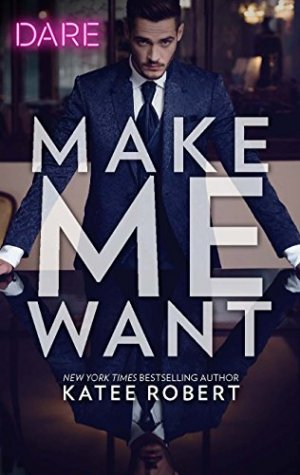 new Dare Imprint. It's a friends to lovers trope story with a hero tasked with finding a husband for the heroine only to discover he wants the role for himself!
Lucy Baudin's last relationship ended in heartbreak when she discovered her fiance was cheating on her. Not only that, but he'd made her feel inadequate in the bedroom, dealing a blow to her self esteem. She's an accomplished lawyer but to be considered for partner, her odds would be better if she wasn't still single due to some lingering misogynistic attitudes among the old guard. Lucy's not interested in the dating scene so she comes up with a better plan – hiring her friend Gideon Novak, an accomplished headhunter, to find her a husband.
The last thing Gideon wants is to play the role of matchmaker for Lucy. If things had worked out differently, she'd have ended up with him instead of his loser friend Jeff who didn't appreciate what he had. Residual guilt over not telling Lucy about Jeff's extracurricular activities in a more timely fashion means he can't turn down her request. The trouble is he doesn't think any of the men he knows are good enough for her. And when Lucy approaches him for some 'practice' in the bedroom to help curb her self esteem issues, Gideon can't say no to that either. Now he's got a dilemma on his hands. Having Lucy in his bed fulfills his wildest fantasies. Is he really going to watch her marry someone else?
I loved this story! Though it doesn't start out as a hero in pursuit romance, Gideon soon finds that he's more interested in keeping Lucy for himself than finding her the perfect man. He takes the job of husband hunter seriously, believing he owes her an honest attempt at fulfilling her request. But when Lucy tells him she wants to practice her lovemaking with him so that she can be better prepared for intimacy with her possible husband-to- be, all bets are off. The result is some super sexy scenes as the attraction that's always been there between them comes to the surface.
Things get complicated when they start feeling more for each other than just friendship, but aren't ready to communicate those feelings to each other. Gideon's past history with women is one of short term affairs. Lucy's wary of being hurt again and doesn't believe Gideon's interest in her will last. They both make some mistakes that need to be fixed. Gideon's friend Roman gives him advice along the way, as does Lucy's sister Becka in some heartfelt scenes. Make Me Want is a fun, steamy romance that will make you swoon (and probably blush!) as Gideon and Lucy find their way to a happy ending.

Book Info:

Publication: Mar 01, 2018 | Harlequin Dare | Make Me #1
"I want everything."
She's taking control. And it's driving him wild!
Lucy Baudin's ex did a number on her self-esteem, but it's time for her to regain control. In her job as a lawyer she's bold, confident. But in the bedroom she needs inspiration to reawaken her inner seductress. Asking her friend Gideon Novak for help seems wrong…yet so deliciously right!