Marooned with the Millionaire by Nina Milne: Two people who have had their worlds ripped out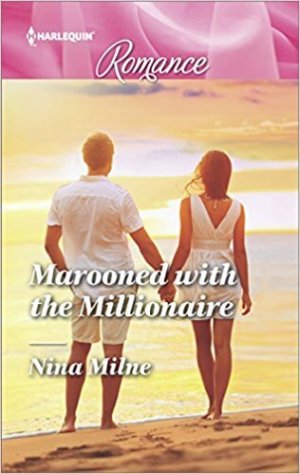 from within don't deserve to find happiness, right? After all it was their choices that cost them everything.
April Fotherington believed that, she really did. She had made a choice and it cost her and others a world. So now it was time to move forward but do it with the least amount of impact possible. At least that was the goal and so far no one had made her want to waver in that decision, ever.
Marcus Alrikson believed it as well. He dreamed and he achieved but was a loner, he didn't deserve more than that, heck even his friends got ripped away. He wasn't going to sit and berate himself, but he wasn't going to be fully involved in anyone either.
The funny thing when you have really great plans? Yep they get changed and now neither April nor Marcus really know what to do. It was one thing when it was just them but now that it might be more… what will the future hold?
This was a heart-wrenching novel. It is one of a series and it made this reader want to go back and examine EVERY other novel to pick up on things mentioned in this one. It can be read as a stand-alone though and be fulfilling. Ms. Milne has done an amazing job bringing these characters to life and giving them a living and breathing background. There are so many things I could say about this but I will leave it with this is the best life giving, heart breaking, people building novel I have read in all of 2018 thus far. While the love story is great, the depth is greater than the deepest ocean, the true to life feelings and flaws will make you sob while giving you the greatest warmth when you reach the conclusion.

Book Info:

Publication: Expected publication: May 8th 2018 | Harlequin Romance |
A glamorous assignment, a brooding bachelor…
Might April get more than the scoop she bargained for?
When journalist April Fotherington is assigned to write about handsome, elusive royal chief advisor Marcus Alrikson she knows she'll have her work cut out. What she doesn't expect is that they'll end up huddled in a candlelit hideaway during a desert island thunderstorm! April and Marcus share one special night—but could there be consequences beyond their spontaneous island encounter?