Married for the Sheikh's Duty is the third book in the Brides for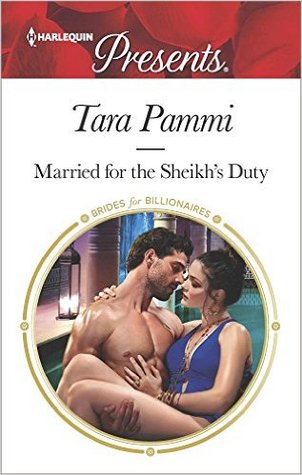 Billionaires series, one which deals with the scandal that four wealthy, international businessman have found themselves embroiled in when an untrue article surfaced in a tabloid. To regain their reputation, these four men have come up with the solution of marrying quickly, with the help of a matchmaker.
In this story, it's Sheikh Zayn Al-Gahmdi's turn. He's the ruler of the small Arab country Khaleej and any woman he chooses to marry will have to understand the country and its customs, plus be a suitable bride for a royal such as himself. His requirements? "Beautiful, young, malleable, not particularly smart and a virgin." When Amalia Christensen crashes his match matchmaking parade (so to speak), he's quick to realize she's not one of the woman he's supposed to interview for the position. But she intrigues him and when she tells him her real reason for being at the palace, to help her brother who has been wrongly imprisoned, he's quick to seize on it as an opportunity for them to get something they both want. If she'll play at being his fiance, at least until his sister is married (satisfying her conservative soon to be in-laws that her brother is reforming his playboy ways), he'll look into the case of Amalia's brother's imprisonment. Amalia has no choice but to accept. But as they spend time together, days and sultry nights, will their fake engagement turn into something real?
I loved this story! It's my first by this author, and definitely won't be my last as I thoroughly enjoyed every detail, from the characters to the setting to the plot. Amalia is a delightful heroine – yes, she fits the virginal requirement of the Sheikh's list, as well as being beautiful and young (at age 26). However malleable she is not. She's feisty and smart, willing to stand up to Zayn when needed. She's a business woman too, currently on leave from her job as a personal assistant to a multi-millionaire. Amalia comes from a split family, her father, an historian and native of Khaleej having divorced her mother, an international model. Amalia stayed with her mother, moving away from Khaleej while her brother stayed with their father. She and her brother had kept in touch over the years which is why she'd returned to Khaleej to try to help him in his predicament. But she is still estranged from her father, and bitter that he was so easily able to cut her out of his life when she and her mother left the country. It's made her wary of getting involved in any kind of relationship. However because of her connection to the country she has a keen understanding of its politics, laws and customs, which is certainly a boon to Zayn.
The Sheikh is exactly the kind of dominant, alpha hero that I like. His position and his culture not surprisingly might make him somewhat misogynistic and indeed he has a bit of that kind of attitude at the beginning. But he definitely respects women, cares deeply for his sister and her happiness (to the extent that he's willing to marry to protect her reputation), and is quick to realize that Amalia might be more than he bargained for. He likes her wit, her strength, her courage and her intelligence. Her business acumen and her understanding of his country and his personal challenges as a ruler and a man go far to make him realize just how fortunate he is to have met her. He definitely has a possessive streak (as evidenced by his jealousy when they meet Amalia's former boss) but it just serves to cement his feelings for her. Zayn has degrees in architecture and business, and it's the former that can be seen in the designs of his palace. He might wish that he could have pursued a career in architecture but he knows his place in the royal lineage and his duty to his country. Having a woman like Amalia to share these things with is not something he takes lightly.
Amalia and Zayn share an intense attraction to each other, one that is quickly realized in some sensual love scenes. Their fake engagement starts to feel very real as they interact with family and friends and are under the media spotlight. But both have reasons for trying to keep their hearts from being involved, and there are some ups and downs before they get to that happy ending, which is thoroughly deserved and comes with a lovely epilogue. I highly recommend this story, and plan to seek out more books by this author.
Book Info:

Publication: Nov 22, 2016 | Harlequin Presents | Brides for Billionaires #3
The playboy sheikh's last temptation…
Thanks to a recent scandalous exposé, the damage to Sheikh Zayn Al-Ghamdi's reputation is threatening his family's future.
So when fiercely independent Amalia Christensen has the gall to blackmail him with further ruination to ensure her innocent brother's freedom, Zayn choses to keep his enemies close… and make Amalia his temporary fiancée!
Zayn's only duty is to his country. He can't allow himself any emotional ties. But the hunger Amalia unleashes in him soon tempts the playboy sheikh to take their relationship from business to the bedroom…