Million Dollar Christmas Proposal by Lucy Monroe
"She has to be educated…no candidate should be younger than twenty-five and no older than her mid-thirties. She cannot have her own children that would compete with Franca and Angilu for attention. The candidate should be passable in the looks department, if not pretty, but definitely no supermodel types."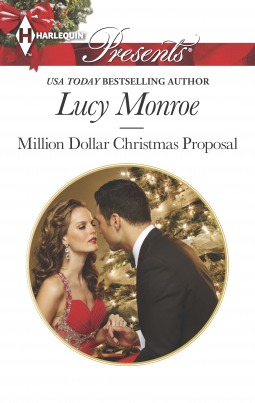 Vincenzo "Enzu" Angilu Tomasi is determined to find a wife to give his orphaned niece and nephew the loving home life that he had never had. He had tried to provide some of that to his younger brother, but he had failed him. He wasn't going to fell his young niece and nephew, who were only 4 years old and 8 months old. Like with anything he does, he goes about finding a loving wife the old-fashioned way: having his P.A. prepare dossiers on potential candidates and throwing millions of dollars at the problem.
Audrey Miller finds out about Enzu's plan to hire a wife and is appalled. She felt bad for the children, as their uncle's proposition would more than likely net him a gold-digger. But Audrey has her own problems. She's barely making ends meet, and now the brilliant younger brother she is taking care of has the opportunity to attend a prestigious school on scholarship, if she can somehow come up with the remainder of the funds to send him there. She knows that she meets the requirements Enzu has for his potential wife. Maybe there's hope that they can solve each other's dilemmas.
"Hope that maybe Audrey could make a difference not only in her own life, and that of her brother, but for two orphaned children. May she could give them the kind of loving upbringing she'd longed for, the kind that their uncle clearly wanted for them."
One look at Audrey has Enzu thinking–not about the motherly attributes of a potential wife, but the benefits of having a wife in his bed. Will they both be able to create the loving family they never had for two small children, and find love for themselves in the process?
Lucy Monroe delivers another great read in Million Dollar Christmas Proposal. How could you not love a man who, despite his business approach to life, has enough heart to be willing to pay millions to give children a loving home, something he hasn't personally experienced? I loved Audrey's determination to raise and help her little brother even though it derailed her young life. These two people needed each other, but the fun was in how their relationship developed from that initial need to a genuine liking and desire. I was really invested in their relationship working.
There were only a few things that didn't work as well for me in Million Dollar Christmas Proposal. I think the conflict could have been stronger. There didn't seem to be much keeping them from being together. I wasn't on pins and needles trying to figure out how Audrey and Enzu would end up together. I didn't have even a smidgen of doubt in their happily ever after. Call me a masochist, but I like to have a few moments where I don't know how the author will pull off this happily ever after.
I would recommend Million Dollar Christmas Proposal to anyone who likes a marriage of convenience that turns out to be true love with two likeable characters who benefit from a little Christmas magic.
Book Info:

Publication: October 22nd 2013 by Harlequin Presents (Book 3185)
Two people need the most amazing holiday miracle of all: love.
Enzu is determined to offer his orphaned niece and nephew the family he'd craved but never known, even if he has to pay a few million for a "loving mother."
Audrey learns of her CEO's crazy scheme and sees it as an opportunity to provide the high end education her brilliant brother deserves. Besides, she knows you can't buy love and those orphaned children deserve better than the women Vincenzo Tomasi is going to draw with his multi-million dollar offer.