Mistletoe Wedding: Meg Redstone had been through the ringer and had a broken marriage and a 6 year old wonderful daughter to prove it. Of all of her ups and downs the one she was most proud of was that little girl. She meant the world to her and Meg wanted to make sure she had everything that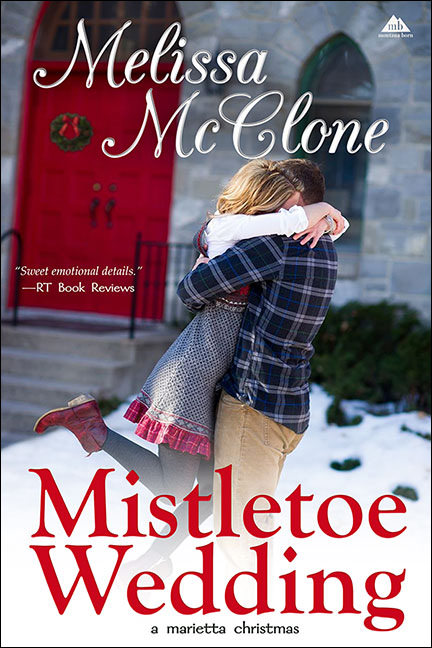 she could provide so she went out and found a place she could have wide open spaces to grow up in. She found a job in Marietta and between guest relations and planning a Christmastime wedding at the ranch she was sure she had found the best place for her little one.
Tyler Murphy had already raised a little girl, his sister, while he liked women he wasn't about to settle down with anyone or start a family, ever. It wasn't that he didn't like children, he just didn't want one for himself, been there done that. Now he has his half of the ranch to work on and enjoy, not to mention great friends and family. What more does any man need?
Christmas magic is around in Marietta and with the wonders of planning a wedding not to mention a child, who can know what will be coming around next? All anyone knows is that the future is bright and somehow Santa always knows just what to get to make it the best Christmas ever.
Ms. McClone has done it again. Not only are we transported back to Marietta, which is a wonderful small town but we get to go there at Christmas time and thanks to Ms. McClone you will be craving gingerbread and the taste of snowfalls, not to mention that feeling of the snow moving in. The story is so genuine and so relatable it will make you wishing you were celebrating with them and may have you reaching for your sweaters. While lighthearted it does play into some deeper emotions and some real responses for single parents to think about. If you are up for sweet, holiday fun this is for you.
Book Info:

Published October 16th 2014 by Tule Publishing Group
vent planner at the Bar V5 Dude Ranch, Meg Redstone is dreaming of a white Christmas with twinkling lights, sparkly decorations and strategically placed mistletoe. She loves making dreams come true for others, whether planning a holiday wedding or giving her young daughter the best Christmas ever.
Ranch foreman Tyler Murphy loves the holidays, but his newest employee has taken over his barn with her over-the-top decorations. He admires Meg's desire to give her daughter the perfect Christmas while planning a winter wonderland wedding, but he wants to show her that a Montana Christmas is more than glitter and lights.
After raising his younger sister, an instant family is not on Ty's Christmas wish list. But he finds himself falling hard for the single mom and her little girl. Meg, however, is not interested in a romance with a cowboy like Ty, or any man. Getting her under the mistletoe is going to take a Christmas miracle . . . or a little help from Santa