Moonlighter by Sarina Bowen is an entertaining bodyguard romance and a great start to a new spinoff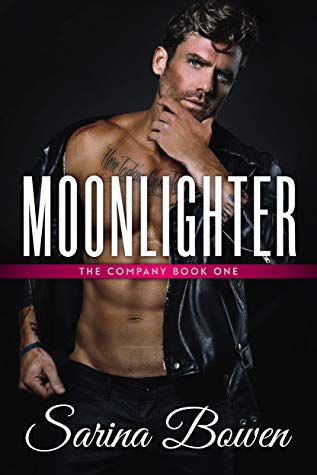 series, The Company.
Hockey player Eric is on vacation time when his Dad and brother Mac who run the family security firm ask for a favour. One of their clients needs a bodyguard as protection from an ex-boyfriend. It's not quite how he'd planned to spend his holiday but he can't say no – especially when he finds out who the client is.
Family friend Alex wouldn't have called in the big guns if she didn't feel she needed the help. But seeing Eric again is a bit cringeworthy. While they'd gotten along famously as young teenagers, their last encounter resulted in a big misunderstanding that she is still embarrassed to remember, having not recognized the adult Eric at a party and assuming his friendly conversational tone on seeing her to be the start of an unwanted pickup. She'd shut him down quickly to which he's politely backed off, and it wasn't until later that night that she'd realized who he was. Now she needs a bodyguard to come with her on a business trip to pose as her new boyfriend as her ex is going to be there. And to make things more complicated, she's pregnant, with her ex's baby. It's early yet, and she's not showing, but she wants to make sure everything is in place to convince him to give up any custody claims. He had shown some violent tendencies and she plans to use that to keep him out of her and her baby's life for good.
Once the apologies and explanations are out of the way, Alex and Eric settle into their roles well in Hawaii, a relationship that becomes hard to remember is fake as the attraction between them leads to more. But when they head back to reality will they keep up what they've started, or go their separate ways?
I'm a big fan of Sarina's hockey romances so anything even slightly related is going to be on my to-read list. I love how she's taken the main theme she's known for and segued it into an interesting new series! Eric is a hockey player at heart, but he is dealing with a persistent knee injury and the grim knowledge that his career is on shaky ground. His hockey connections are the secondary characters in this series (besides his family), familiar ones to those who've read the Brooklyn Bruisers, WAGS, and even True North series (Bountiful being another cross-linking story). I like that it has a good mix of the security company details and hockey to make for a believable cross-over.
Alex has invented an electronic 'butler' whom she calls Bingley and that's what she's showcasing at the conference where Eric plays at being her fake boyfriend. There is a computer espionage plot in this story too, an interesting problem that Eric's family is trying to track down and fix. It adds some tension and some action scenes to the sexy romance bits.
While Alex and Eric have no problem connecting in the bedroom, taking that and turning it into something more is a challenge. They had both agreed that anything happening while on the trip together wouldn't spill over into their real lives back home, and they hold to that. But it doesn't stop them from thinking about each other and wondering if they've make a mistake. Plus, with Alex's security issues not resolved, Eric has an excuse to stay involved. The plot moves swiftly from one thing to the next, all while Alex's pregnancy moves forward and Eric discovers that his future might not go the way he initially planned. Their eventual happy ending is very satisfying. This romance has the trademark banter, sex, laughs and likable characters that I've come to expect from this author. If you're already a fan of Sarina Bowen, you'll definitely want to read this and if you're new to the author this is a great point to jump in, with an extensive backlist to add to your to-read shelf. I'm looking forward to continuing the series!
Book Info:

Publication: Oct 21, 2019 | Tuxbury Publishing LLC | The Company #1
Only in my family could a professional hockey player earning seven million dollars a year be considered a slacker.
I'm at the height of my athletic career. Yet my arrogant brother is always trying to recruit me into the family business: a global security company so secretive that I don't even know its name.
Pass, thanks. I don't need a summer job.
But the jerk ambushes me with a damsel in distress. That damsel is Alex, the competitive, sassy girl I knew when we were kids. Now she's a drop-dead gorgeous woman in deep trouble.
So guess who's on a flight to Hawaii?
It's going to be a long week in paradise. My job is keeping Alex safe, while her job is torturing me with her tiny bikinis. Or maybe we're torturing each other. It's all snark and flirting until the threat against Alex gets serious. And this jock must become her major league protector.