Never Kiss a Duke by Megan Frampton is the first book in the new series Hazards of Dukes. It was a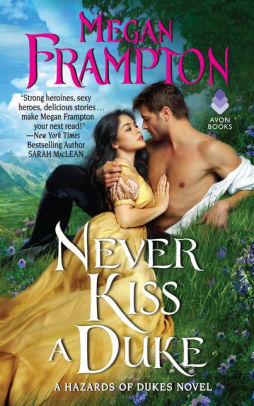 good book to start the series. The characters for future books were introduced, giving the reader a look at potential couples. The storyline was unique in that a woman owned and ran Miss Ivy's, a gambling hall, and a duke that is not a duke.
Sebastian, Duke of Hasford had it all: a title, money, and privileges. Until the day he discovers he is illegitimate due to his mother's lies and the title should be his cousin's. With this discovery comes the realization that he has no home, no money, and no purpose. His family offers to help him, but Sebastian had his pride and didn't want to be a charity case to his family. He wants to discover who he is as a person since all his life he'd been treated due to his title. He realizes that he'd never had to work for something, everything had always been given or done for him due to his title.
Ivy, the daughter of a baron, was ruined by Society's standards. Her father had gambled her hand in marriage and lost to a gentleman farmer. Ivy had been daring and challenged the gentleman, winning back her freedom. She used that freedom and started a gambling hall. She was happy to no longer need to follow all the "rules" Society had. She was proud of what she had become and all that she had accomplished. Her only concern was for her sister, Octavia, who she wanted to be able to make a good marriage. Meeting Sebastian at Miss Ivy's and hearing some of his ideas to grow her business, Ivy hires Sebastian to help her incorporate his ideas. Ivy tried to keep her feelings for Sebastian professional, but the pull between the two of them was too strong.
Ivy and Sebastian was similar in that they had both lost their "identities". Ivy was able to understand some of what Sebastian was going through since she had gone through it also. Sebastian had to decide if he wanted to go back to his life in Society by accepting help from his family or if he wanted to continue discovering himself.
The author did a great job expressing Sebastian's feelings when faced with the change in his circumstances. It was interesting to learn of the laws for marriage that were in effect at that time. It was a great book and I loved all the characters. I can't wait to read the next book.
Book Info:

Publication: January 28th 2020 | Avon | A Hazards of Dukes
A disinherited duke and a former lady are courting much more than business in the first novel in Megan Frampton's newest titillating series, Hazards of Dukes.
Everything he had ever known was a lie…
Sebastian, Duke of Hasford, has a title, wealth, privilege, and plenty of rakish charm. Until he discovers the only thing that truly belongs to him is his charm. An accident of birth has turned him into plain Mr. de Silva. Now, Sebastian is flummoxed as to what to do with his life—until he stumbles into a gambling den owned by Miss Ivy, a most fascinating young lady, who hires him on the spot. Working with a boss has never seemed so enticing.
Everything tells her he's a risk she has to take…
Two years ago, Ivy gambled everything that was precious to her—and won. Now the owner of London's most intriguing gambling house, Ivy is competent, assured, and measured. Until she meets Mr. de Silva, who stirs feelings she didn't realize she had. Can she keep her composure around her newest employee?
They vow to keep their partnership strictly business, but just one kiss makes them realize that with each passing day—and night—there's nothing as tempting as what is forbidden…