In Nine of Stars (Dark Alchemy #3) by Laura Bickle, In the snowy wilds of Wyoming's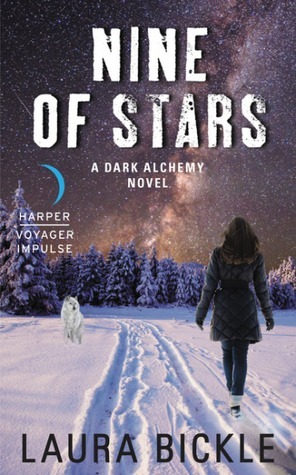 Yellowstone forest, geologist Petra Dee, her coyote Sig, and her boyfriend Gabe are learning about a gruesome local legend, the Jack of Harts, an evil entity that seems to be killing the local wolf population. Petra has endured her own recent shock along with the transformation of Gabe from an immortal Hanged Man to a mortal human. But she's aware of how important saving the Nine Stars wolf pack is to the area. And she's willing to risk what is left of her life to ensure their safety.
'Petra had seen magic before, things she couldn't easily explain. But her scientist's mind was still trying. She was that before all else… But she was also the daughter of an alchemist. She had seen amazing things, felt shocking wonder and bewildering pain that left physical scars behind.'
Gabe never thought he would see a day when his dream of become mortal again would happen. Nor did he think that he'd find love in his long, dangerous life. But having Petra by his side has given him both peace and keeps him constantly discovering new things. So Gabe will do anything to protect her and their way of life. Including hunting down Jack and avoiding local sheriff Owen Rutherford. There are things that the sheriff doesn't need to know or be involved in unless he wishes to get drawn into a world of evil and alchemy. But Owen doesn't seem to know when to leave well enough alone and finds himself in mortal danger along with Petra and Gabe.
'It was odd how immortality had given him a kind of arrogance, a deep certainty of his own invincibility. He was conscious of its absence now, like a protective skin ripped from him.'
Imaginative, dark and yet somehow hopeful, Nine of Stars was a fantasy novel that kept me wrapped up in the legends it explored and with the lives of the characters we followed through to the cliffhanger ending.
'Owen had tasted hell, and it tasted like a bottomless void.
…He had always felt darkness, evil as a force outside of him. It was external. Something to be fought against. But now, he felt it inside his body.'
First off, Nine of Stars is part of the Dark Alchemy series, with the first two books being considered prequels by author Laura Bickle. It would probably be best to read the other two installments first before diving into this story. I didn't, so I went in rather blind here. I'll admit to being a bit lost at times but I was able to piece together enough of what happened previously for this to ultimately make sense. But given how well written this was, I would highly recommend anything Bickle has released anyway.
I truly did enjoy Laura Bickle's writing style. There was a lot of attention to detail, whether it was in laying out the background for a scene or just in the depth of how the characters' emotions came across. I haven't read many stories that involve alchemy so this was really interesting right from the start for me. I liked how it was explained and how it was paired with the wolf skinwalkers and the legend of the Jack of Harts. The alchemy aspect may have added some darkness to the story but I thought it felt more mystical and magical overall.
There were some intriguing characters as well: Petra, her pet coyote Sig, her boyfriend Gabe, skinwalker/wolf Nine, and Sheriff Owen were the main focus. I liked that we got to see the good and the bad in each of them. They weren't perfect, but they were realistic. Petra and Gabe made a nice pair, both bringing honesty and loyalty to their relationship. They went through a lot of changes, personally and as a couple this time, some of it potentially tragic. I loved how her coyote Sig was described. Kind of like a mischievous puppy in some ways and a ferocious protector at other times. And then there was Owen. I so wanted to like him, and I did at times. But there was a darkness in him that kept showing through right up until the very end of the book. It should be interesting to see what happens with him in the next installment.
Danger and magic dominated the pages while Gabe and Petra adjusted to the dramatic changes in their lives. I can only hope that book four will be filled with as much excitement and heartfelt emotion as this one was.
Book Info:

Publication: December 27th 2016 | Harper Voyager | Dark Alchemy #3
Winter is the most deadly season in Temperance. And it's not just because of the fierce cold. Evil is stalking the backcountry of Yellowstone, killing wolves and leaving only their skins behind.
As the snow deepens, Geologist Petra Dee is staring her own death in the face, while former Hanged Man Gabriel struggles with his abrupt transition back to mortality. The ravens and the rest of the Hanged Men are gone, and there are no magical solutions to Petra's illness or Gabriel's longing for what he's lost…and what he stands to lose now.
Meanwhile, there's a new sheriff in town. Sheriff Owen Rutherford has inherited the Rutherford ranch and the remnants of the Alchemical Tree of Life. He's also a dangerously haunted man, and his investigation of Sal's death is leading him right to Gabriel.
It's up to Petra, her coyote sidekick Sig, and Gabriel to get ahead of both Owen and the unnatural being stalking them all – before the trail turns deathly cold.