In Officer Off Limits (Line of Duty #3) by Tessa Bailey, Kindergarten teacher Story Brooks has just been unceremoniously dumped by her fiance weeks before they are set to get married. She is of course shocked by the news but is strangely not as upset and she probably should be. But before she can wrap her head around what just happened, Story receives a call that her estranged father, hostage negotiator Jack Brooks, has had a heart attack and is in the hospital in NYC. She flies from California to visit him as he has no other family around and thankfully finds him in stable condition. Story gets hit on by a gorgeous man while at the hallway vending machine outside her father's hospital room. He is obviously used to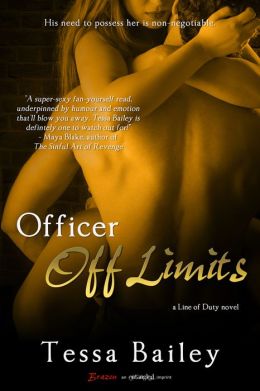 women falling at his feet, and while she's flattered by the attention, she's still dealing with her breakup. So she excuses herself to go back to her father's room only to have the man follow her. Story and the handsome stranger both look surprised as Jack introduces his protege, Daniel Chase, to her.
"How quickly he'd become an addiction. In the beginning, she'd known it would be wise to stay away, but not why. Now she did. Every touch of his hands, brush of his lips, made her system scream for more."
Story is worried and slightly amused when her father has Daniel show her around the neighborhood and to Jack's apartment. She feels a heightened connection to Daniel and in her current state after the break up, is afraid she won't think clearly while being in such close proximity to him. Intense sparks fly the first time they are alone together and Story knows she's in over her head. She should go back to California as soon as she can so she can distance herself from Daniel. But she can't seem to stay away from him. When new details emerge regarding her fiance Fisher, she's further confused about her situation and has to decide if she should take a chance on building a relationship with Daniel, or return home to create a new life for herself and stand on her own two feet.
"He'd fallen for this girl. The realization felt like pain and perfection at once."
Daniel Chase is an expert hostage negotiator on the NYPD. Over the past few years he has learned from one of the best: Jack Brooks. Now unfortunately Jack is in the hospital and he's unsure how serious his condition really is. Daniel encounters a beautiful woman in the hospital hallway when he arrives to visit his mentor. He can't help but stop to engage in a bit of flirting. But what starts off as harmless bantering turns serious as he feels himself being drawn to the mystery woman. He never expected her to be Jack's daughter and is further caught off guard when he's told to keep an eye on her safety…but to keep his hands off of her or else. Story obviously has heard of his reputation as a womanizer and tries to keep him at bay but he loses his normal composure when she's near. He's never been driven to such emotional extremes as he is with Story and thinks he needs to put some distance between them but he only becomes more miserable with each passing day. Daniel finally makes a decision about his feelings for her only to be swept up in a dramatic turn of events that may alter their lives forever.
I have fallen in love with Tessa Bailey's writing style while reading her Line of Duty series. Each book has been written with a good blend of witty banter, intense emotions and steamy love scenes. Officer Off Limits is no exception. Both Story and Daniel are interesting characters…especially when they're in the same room together! Story is confused after her recent break up and intends to learn to stand on her own. She's got a heart of gold and brings out the best in Daniel, believing in the innate goodness in him. And Daniel, being an expert in reading people, feels like he isn't good enough to catch a wonderful woman like Story. It was fun watching these two fall in love and seeing Story give in to her inner vixen. I highly suggest this novel if you love seriously hot romance, an alpha male who talks dirty but is really at the mercy of his woman, and a story with an unexpected twist at the end.
Book Info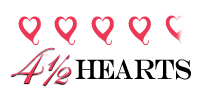 His need to possess her is non-negotiable.
Story Brooks' fiancé just called off their wedding two weeks before the happy day. As if that isn't bad enough, her semi-estranged father, an infamous NYPD hostage negotiator, has suffered a heart attack. Not wanting to examine her lack of emotion over the broken engagement, she hops on a plane to reconnect with her father before it's too late.
Playboy hostage negotiator Daniel Chase has never, not once, been refused by a woman, so when a debate over hospital snack foods with a delectable kindergarten teacher ends in flat-out rejection, he makes it his mission to seduce her. His only obstacle? She's the daughter of his mentor who implicitly forbade Daniel from pursuing her.
Despite her father's warnings and Daniel's troubled past, Daniel and Story can't resist their intense attraction to one another. But when the reason for her fiancé's abrupt wedding cancellation comes to light, can Story and Daniel's already forbidden relationship survive?