Once a Moretti Wife by Michelle Smart: A tempestuous marriage on the rocks gets a surprising second chance in this passionate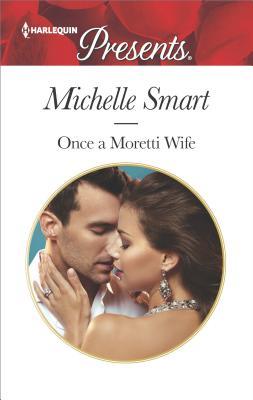 romance by Michelle Smart. Anna knows something is wrong when she wakes up one morning with a splitting headache and proceeds to go into her office as personal assistant to Stefano Moretti, only to pass out in his arms. Upon awakening she discovers that she's got amnesia and is married to her boss! What she doesn't know is that a month earlier she'd accused him of infidelity and stormed out, petitioning for a huge part of his fortune in their divorce.
Stefano, bitter over the turn of events with a woman he once loved deeply, has found a way to exact revenge. Pretending they are still married, he plans to seduce Anna all over again while she is on the mend, hoping her memory will return but not until he's had a chance to make her fall for him again just to break her heart the way she did his. Only, spending time together rekindles the magic of what brought them together in the first place. As Anna's memory returns piece by piece, will Stefano's plan of revenge threaten to destroy what they are rebuilding together?
I really enjoyed this story! I thought the setup was unique and definitely intriguing, especially as we find out the reasons for Anna leaving Stefano in the first place. They are both guilty of acting on impulse and believing the worst of each other, resulting in the breakup of their marriage, but it isn't until Stefano takes Anna home from the hospital and has to pretend that they are happily married that he realizes he is equally at fault for what happened. Though his initial plan is to enact his revenge because of how hurt he was to come to believe that Anna was nothing but a gold digger after his money all along, her actions under the influence of amnesia do not hold up with his theory. To his credit, he starts to feel guilty over his plan pretty quickly, especially as he and Anna start to reconnect on an intimate level. They share some sexy love scenes that show their passionate attraction to each other.
Anna is a feisty and strong woman, frustrated to discover that her memory is missing important pieces. Because of events in her childhood, she has a hard time trusting people, and even though she'd married Stefano, it's not until she's living with him under the impression that they are happily married that she opens up about her past. Similarly, Stefano has discovered some startling secrets about his family that he never had a chance to share with Anna, and he does so now. This binds them together emotionally in a way that never happened during their marriage and is key to giving them a chance to fix what they've broken.
Eventually Anna's memory does return, and this creates a whole new conflict between them, as Stefano struggles with his real feelings for his wife, and Anna's newfound feelings of betrayal. Fortunately they've learned enough from their mistakes to not cut off the lines of communication like they did the first time, and the result is a very satisfying happy ending for this couple. Their marriage will be stronger than ever as a result, and the epilogue is a sweet touch. If you like second chance romances and redemption stories, I definitely recommend this story.

Book Info:

Publication: Mar 21, 2017 | Harlequin Presents |
"I love having you at my mercy… And you love it, too."
The only desire billionaire Stefano Moretti has for his estranged wife, Anna, is revenge–she humiliatingly left him weeks ago. So when Anna returns to his life, with no memory of their tempestuous marriage, he's certain fate has dealt him a winning hand.
Stefano's plan is twofold: a private seduction that will reawaken Anna to their red-hot attraction, followed by a public humiliation to match the one she landed on him. Until Stefano realizes there's something he wants even more than vengeance–Anna, back in his bed, for good!