One Lucky Hero (Men in Uniform #1) by Codi Gary is a wonderful story that deals with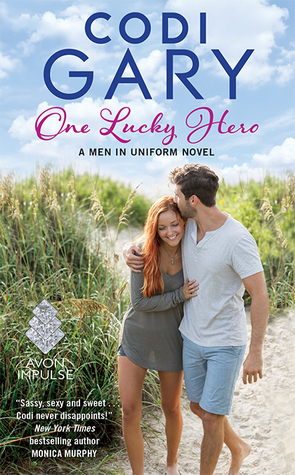 PTSD and addiction. I have to say that this author does an amazing job of dealing with sensitive matters and gives us an amazing HEA for these characters. I have read the starting novella in this series and fell in love with the characters and the premise of the story. This book is no different. It touched something in me and makes me excited to see what happens next. This book can be read as a stand alone. This is the story of Dean and Violet.
Violet Douglas had a childhood filled with pain. Her mother committed suicide when she was young, her father was a drug addict, and Violet stepped up and took care of her 2 younger siblings, filing for guardianship, making sure that she can keep them together. Despite everything, Violet works hard, going to college to try and make a better life for them. When she decides to go out with some friends and meets a guy that turns her head, she decides that I one night, temporary fling is just what the doctor ordered. Not one to break loose, Violet gives herself permission knowing that she will never see Dean again.
Sgt. Dean Sparks is running the Alpha Dog Training Center, just biding he time until he can convince his shrink to release him and allow him to go back to active duty. Out with a fellow trainer one night, he meets Violet and is struck by her. He knows that he is not going to be around long term, does not want to give her the wrong impression, but he wants her. Wants one night with her. So they both give in and agree to give it a go.
When Violets bother, Casey, gets into trouble and it forced to go to the Alpha Dog Training Center to fulfill his required service, she is shocked to see Dean again. Dean is equally shocked. But Dean knows that Violet is struggling and he just wants to help. As Dean works with Casey and gets him to open up, as he helps Violet in little ways, the two grow closer.
But when Violets father reappears in the picture, and her sister is attacked by an abusive boyfriend, Violet will try to push Dean away, no trusting that he will stay. But Dean realizes that what he really wants is not to go to war, but to stay and fight for the future that he can only dream of with Violet and her family.
I loved the protective nature of both Dean and Violet. Violet was such a strong character, with all that she had been though, it would have broken a weaker person. But she goes swinging to protect her brother and sister, she will do anything to keep them safe. And Dean, the way that he steps in and protects them all is just so heart melting. I was so happy when these two, with the help of friends and family finally found the HEA that is so emotional it will bring a tear to you eye.
The perfect "holding out for a hero" story to kick off the summer.

Book Info:

Publication: June 7th 2016 | Avon Impulse | Men in Uniform #1
She was looking for a little fun…
Violet Douglas wants one night where she can be normal. Where she can do something for herself and not be just her sibling's guardian. So when she spies a tall, dark and sexy stranger, she's ready to let her wild side roar. The last thing she expects is to see her one night stand one week later, when she drags her delinquent kid brother to the Alpha Dog Training Program.
He wasn't looking for a commitment…
Sgt. Dean Sparks is used to keeping women at a distance, and yet he can't resist Violet's snapping wit or smile. So when he suggests a friends-with-benefits arrangement, it seems like the perfect solution to their undeniable attraction. No emotional entanglement, just mind-blowing sex.
But with their lives becoming more and more entwined, Dean realizes that casual isn't enough for him anymore. And as Violet finds herself leaning on Dean in a way she never has, will her fears put more distance between them? Or can she let go of the past, and take a chance on happily ever after?