One Night with the Texan by Lauren Canan: Too many drinks and a man too handsome, that can only spell trouble for a young lady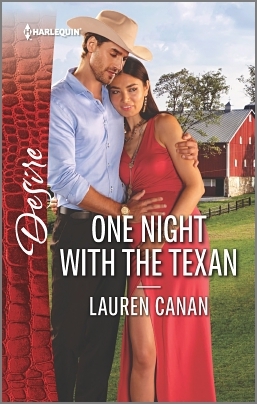 getting ready to embark on a new journey.
Tallie Finely knew she shouldn't have had so much to drink. She shouldn't have gone back to the guys room. Yet she couldn't regret that night or anything that happened other than the fact that after all of that she didn't know his name. She had a shot to discover her roots in a way most people never can. That was what she wanted to focus on. Her future was tied to her past in ways even she couldn't imagine.
Cole Masters was rich and therefore used to people trying to get to him for his money. So used to it in fact that he didn't believe people wanted to get close to him for any reason other than that. He just didn't trust. So now there was someone who didn't recognize him and he was determined to learn what being "real" was like.
There are some serious secrets between Cole and Tallie and only time will tell if those secrets will destroy them or bring them closer together.
Wow. This in another in this great series, though it does stand on it's own two feet well. Ms. Canan has brought her readers a wonderful overall story. The flow is amazing and while there are a couple of plot holes skimmed over for page count, overall the story is well flushed out and well written. It's a pleasure to read and an interesting take on hidden pregnancy. Given another 50 pages or so, which would be a joy to read because the style of Ms. Canan is a pleasure, this would be a 5 star read.

Book Info:

Publication: Published February 7th 2017 | Harlequin Desire |
From one-night fling…to the real thing?
For wealthy real estate CEO Cole Masters, a weekend in New Orleans means meeting a beautiful woman and blowing off steam. No names, no strings. So months later when the same woman shows up on his doorstep, it's a shocker. Even worse, she's an archaeologist with a court order to access his property–and mess up his business plan. And yet he's still wild about her.
For Tallie Finley, this mission is both professional and personal, and Cole could prove too tempting a distraction. Will her efforts to uncover her family legacy be derailed…especially when she discovers she's expecting?