In Please Me, Cowboy by Megan Crane, Gracelyn has worked hard to be far from the dead end prairie town she grew up in. Now living in the big city and working for billionaire Jonah Flint's company, she's where she thinks she wants to be. Suddenly though, a work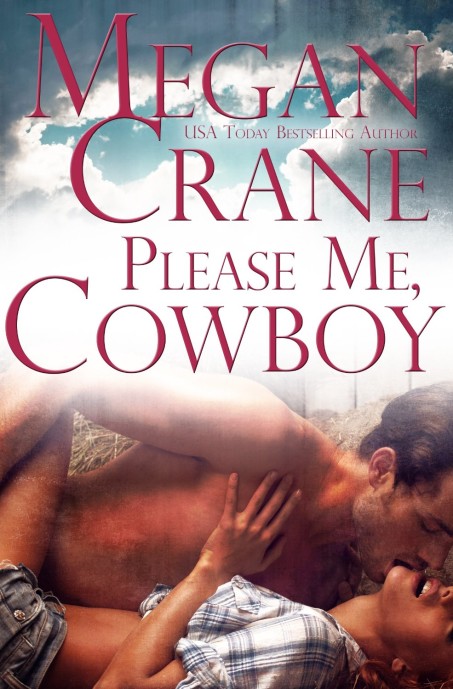 assignment with her boss threatens to bring her back much closer than she ever planned to be to any small town in Montana.
Jonah needs a fake girlfriend. He is heading to visit his twin Jasper in Marietta, Montana and a girlfriend is just what he needs to help him with his cause. He's not just going to see Jasper, he's going to convince him he's making a huge mistake by settling in Marietta and marrying a school teacher. They both worked hard to prove themselves and be successful, and Jonah isn't about to let Jasper throw it all away. For Jonah it's all about the money – there is no room for emotion.
Gracelyn has managed to ignore her attraction to Jonah…but being in such close proximity to each other soon proves the attraction is mutual, and the chemistry is hot. It might only be a two week 'assignment', but could it turn into more? Being in Marietta brings both of their fears simmering to the surface, and they both have very different ways of dealing with things. As Gracelyn starts to seep through the cracks in Jonah's heart can he let her all the way in? Or will the realities, challenges, and feelings stirred up drive them farther apart than ever?
Please Me, Cowboy has two very strong main characters who in most ways seem very different, but underneath all the money and walls they're not. Gracelyn and Jonah both had childhoods that were not easy and have left scars. They have both worked hard to get where they are today. Jonah is very bitter, edgy, single minded and purposeful. That's who he's trained himself to be. Jonah was difficult to warm up to and he is very different from his brother Jasper. Gracelyn has also worked hard to be where she is. She also remembers where she came from and how people made her feel. Her actions on this assignment though all in the name of work also made her difficult to connect to. She knows in her heart and her mind it's not right, but she keeps it up anyway. I couldn't wait to see how Megan played this whole plot out and she didn't disappoint me. Megan magnetically drew me into their lives even if I didn't necessarily like them to begin with. Megan's descriptions of the characters are great and the dialogue flows. There is strong character development and growth that moves along well with the plot.
Jasper is a strong secondary character and I really liked the interactions between him and Jonah, and seeing such big differences in characters who were raised the exact same way. It was really interesting and the conflict and turmoil between them was easy to feel. The whole plot revolves around Jonah thinking he can control Jasper's life, and even the growth of their relationship in Please Me, Cowboy is powerful.
I loved being back in small town Marietta, especially since I have read Jasper's story (Tempt Me, Cowboy). Please Me, Cowboy can easily be read as a stand alone though. I do really hope to see Gracelyn and Jonah in future books to catch up with how they are doing.
Please Me, Cowboy is a fast paced, well written romance that will entertain you and intrigue you. I'd recommend Please Me, Cowboy to any romance reader looking for a quick read with some strong characters.
Book Info:

Published September 14th 2014 by Tule Publishing
Gracelyn Baylee Packard got herself away from her dirt-poor Montana roots as soon as she could. Now – although she's never actually met the man – she works in Texas for billionaire Jonah Flint.
When Jonah summons her to inform her it's her lucky day, because she's going back with him to her home state as his guide, Gracelyn doesn't exactly see his proposition in the same light. So what if he needs her to infiltrate the tight community of a small Montana town to save his brother from a pre-nup-less marriage?
It's the last place on earth either one of them would ever go willingly, yet Gracelyn and Jonah discover that in Marietta they just might find exactly what neither one of them was looking for…