Practice Husband by Noelle Adams is a really enjoyable friends to lovers/marriage of convenience romance,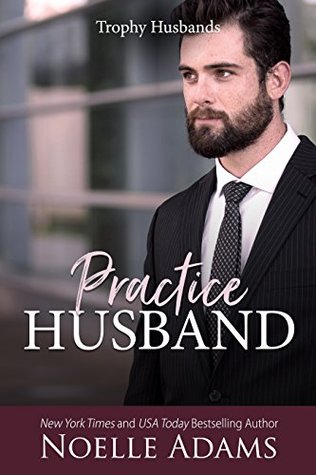 and one of my favorite books by Noelle Adams! Hunter and Sam have been friends since high school and while Sam harbored deeper feelings, she was 'friend-zoned' by Hunter (though secretly he wasn't immune to their attraction). Hunter ended up with a bad crowd and went to jail for his involvement in a car theft ring during which time Sam stayed in touch with letters.
Sometimes writing is just as intimate or even more so than face to face conversations and Hunter was paying attention to things Sam was saying. Now, he's out of jail and looking for a job and a place to live after his plans with a friend fell through. Sam has her own issues, with a controlling grandfather pushing her to marry, and unwilling to give Hunter a job since he isn't family. Sam 'proposes' a solution – a temporary marriage to give Hunter a job, and have her grandfather off her back. It will give her a chance to see what marriage is like with a 'practice husband', without the pressure and stress of a real marriage. They know their friendship is strong and living together in a marriage of convenience should be no big deal. But Hunter also wants to help Sam with one of her deepest desires – to experience good sex. With nothing off the table, will they find their marriage to be real after all?
Sexy and emotional, this story has two really likable (though flawed) characters coming to terms with how they've changed since being teenagers, yet who've maintained a friendship strong enough to make a temporary marriage into something long lasting. Sam has some self esteem issues and Hunter is encouraging and pushes her to see herself as he sees her – as a strong and confident woman, one who is sexually desirable and a worthy partner. Hunter fully admits the mistakes he's made and is determined to keep a low profile at his new job while showing he's competent and worthy of a second chance.
It's a bit of a slow burn as they make the transition from friends to lovers, and then discover that those hidden teenage feelings have not faded. While the trope is familiar, Noelle Adams treats it with her own special touch to make a believable, heartwarming and sexy romance. Marriage of convenience is a fun trope to work with and I'm looking forward to the next in the Trophy Husbands series!
Book Info:

Publication: Aug 21, 2018 | Self Published | Trophy Husbands #2
In high school, I was in love with Hunter Ness, but he friend-zoned me. Time passed. I grew up. He went to prison. And now he's going to be my husband for a year.
There are reasons.
He's not going to be a real husband. Just a practice husband so he can have a job and a place to live and I can finally experience parts of life I've only read about before. We're just friends, and I'm helping him out.
But still… He's way too sexy, and he knows me far too well. It's hard to remember he's not the real thing. But I'm going to stay smart. I'm not going to fall for my ex-con husband who only sees me as a friend.
I hope.