Pregnant by the Rival CEO by Karen Booth: Your oldest crush, your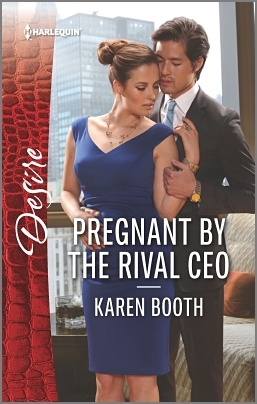 brother's ex-best friend, possibly your new business partner and your new lover, all of this is one person and he's just walked back into your life.
Anna Langford had a plan in mind, to help grow her family's business and become the CEO. She even had a plan, the only problem would be convincing the men to agree to it. When she met back up with Jacob though she did realize that her only problem wasn't convincing the men, it was going to be fighting her hormones.
Jacob Lin had been plotting revenge against the Langford family for years, so he was a bit apprehensive about meeting with Anna when she asked. He knew though that he couldn't resist, at one point she had been a great friend to him and she wasn't the reason for his hatred of the Langford. She was the only redeeming factor and he couldn't wait to see what she had to say.
After one meeting both Jacob and Anna realized that their relationship could never be just professional. When lies and hidden truths start coming to light though everything changes and then the unthinkable happens. Will this be the start of something forever or of something to bury?
Ms. Booth has given her readers and interesting mix of hidden secrets with this novel. Her characters are well developed and the plot quick. There is a bit of a jump at the end but the story develops so well it's easier to forgive the jump. This is a great read with lots of "hidden" stories behind the main story. Take a chance and let some hidden features come out in you.
Book Info:

Publication: Harlequin | January 5th 2016 | Harlequin Desire |
It was just business. And then she got pregnant…
Anna Langford is ready to be CEO of the family business, but her brother won't give up control. When she sees the opportunity for a major deal, she goes for it, even though it means working with Jacob Lin, her brother's former best friend, the guy she's never quite gotten over—the man her brother now despises. A successful venture capitalist, Jacob makes ruthless moves. And Anna has given him the perfect chance to take revenge on her brother…
What starts as business turns into romance—until Anna learns of Jacob's motives. And an unplanned pregnancy presents them both with the greatest challenge they've ever faced.