Promoted to His Princess by Jackie Ashdenden is a sexy 'one night together becomes more'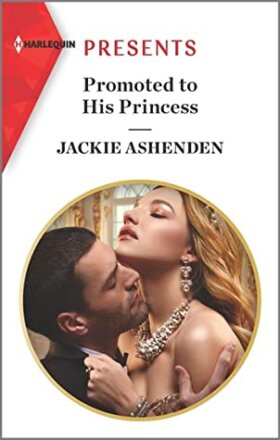 romance and the first story in her Royal House of Axios series.
When Prince Xerxes Nikolaides wants something, it's royal guard Calista Kouros's job to obey. Calista has worked her way up the ranks and hopes to one day protect the King, Xerxes's brother. She can't afford any missteps now. But trying on ball gowns for his absent fiancee-to-be was never in her job description. Still, she'll do it, and try to avoid looking at herself in the mirror as she'd rather be known for her function than her beauty.
But Prince Xerxes has a bit of a revelation when he sees Calista out of uniform. Attraction between them blooms and leads to one night together with an agreement between them both that that's all it will be. Until the night when Xerxes is supposed to announce his engagement, a marriage planned for their countries but not for them. Then, Calista shows up to inform Xerxes that she's pregnant. For Xerxes it's an excuse to call off the engagement – and offer it to Calista instead. After all, she carries the royal heir and they know that they're sexually compatible. But can it lead to a real love affair?
I enjoyed this royal romance, the author having set the series in a fictional Mediterranean locale with a Greek-type flair. Xerxes is a man proud of his heritage but with a lot of baggage. His father (now deceased) was abusive and while in the army, Xerxes had been captured but held out to torture, refusing to take his suicide pill which resulted in his father at the time calling him a coward and being exiled from the country. Upon his father's death Xerxes's brother Adonis had called him back to gain his rightful place as Prince again. With a reputation for being a lazy playboy, Xerxes has much darker secrets that he slowly shares with Calista as they navigate their new relationship.
Calista has her own emotional baggage to deal with too. Since she wasn't born a boy, she's tried hard her whole life to be the son her father wanted. Her beautiful mother cheated on her father and abandoned her at a young age, leading her to believe that her own beauty was a handicap that should be hidden. But with Xerxes, her life takes on a whole new meaning. Doing her duty to the country means making sure the royal heir is safe and sound, but she can also use her position as the wife of Xerxes to enhance women's positions in the royal guard as she had been the first woman in her position and she's determined that she won't be the last.
Calista and Xerxes fiery first night together sets the tone for their passionate relationship once they are together again. But both have to overcome feelings of inadequacy in order to gain their happy ever after. It's an engaging story, and I'm looking forward to reading the next book in the series!
Book Info:

Publication: July 21, 2020 | Harlequin Presents | The Royal House of Axios #1
In bed with the playboy prince
For now, or forever?
Calista is an elite soldier trained to win any battle. But what happens when the fight is within? Resisting the charismatic prince she's protecting is getting harder by the minute. When his shirt comes off, so do her inhibitions…
When serious Calista requests one night of ecstatic freedom, Xerxes is more than happy to comply. Ordered by his king and brother to quit his playboy ways, he'll allow himself this final seduction! Yet their outrageous passion leaves Xerxes wondering if one night is ever going to be enough…