Reawakened by the Italian Surgeon by Scarlet Wilson: Autumn is ready to leave her big breakup behind, so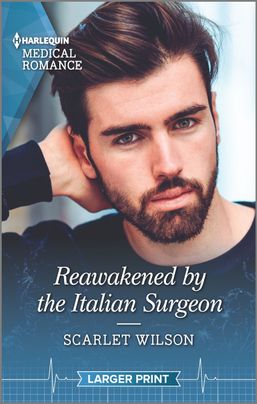 she is thrilled when she is asked to help separate conjoined twins at a famous hospital in Rome. The lead surgeon there is Giovanni Lombardi. He is not the type of doctor that has a super ego. Instead, he is warm and welcoming.
They work well together doing practice surgeries in a lab in preparation for the big day.
Autumn is instantly attracted to Giovanni, but cautions herself to remain professional. It is much harder to not be completely charmed by his young daughter, Sofia. Giovanni has devoted to Sofia even more since his wife died.
Reawakened by the Italian Surgeon is the second novel in a duet. I was very impressed by how seamlessly the two interconnected books were, even though each had a different author. What is even better is both novels came out on the same date, so there is no need to wait. I read them back to back within two days. The medical details and suspense made this second story even more of a page turner.
Both Autumn and Giovanni have their secrets and baggage from the past to deal with. I especially love stories where people from different cultures can find they have so much more common ground than difference. It's a shame the world in general can't take a clue romance novels.
Sofia is precocious and so cute that she is "scene stealer". Her character truly adds tenderness and charm to this heartwarming tale.
I look forward to reading more reading more medical romances and duets.
Book Info:

Publication: April 27, 2021 | Harlequin Medical Romance | Double Miracle at St. Nicolino's Hospital Duet #2
Top surgeon, devoted single dad…
the doctor to open her heart?
Flying to Rome to separate conjoined twins is just the fresh start that Autumn needs. Her latest breakup has proved that her heart belongs only to surgery. But lead surgeon and widower Giovanni Lombardi has her pulse racing, and his adorable daughter awakens a longing for a family Autumn never thought she wanted—until now…
A Double Miracle at St Nicolino's Hospital novel