Redeemed by Her Innocence by Bella Frances: Jacquelyn is struggling to run the family bridal boutique. She's put a lot of pressure on herself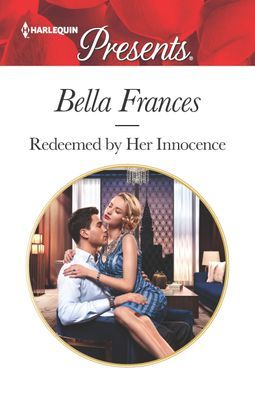 to make it a success to help her parents and in light of her ex-fiance unceremoniously leaving her. She's determined, true to herself, and has a backbone when pushed.
Nikos is a sexy self-made man. He runs a very successful business but he's still trying to out-run his dad's legacy and the mess his late wife left for him. He's determined to never get married again and has no place in his life for what he knows of love.
Jacquelyn is desperate for an investor to help her save the business. When Nikos is compelled to take a meeting with her, she's clear that she's only interested in what he can do for her company. She's nothing but accommodating when adjusting to his changing schedule, even when it means an impromptu trip to sunny Greece.
'Well, the thought of spending time here… Who wouldn't want to do that? I mean, it's gorgeous, and I haven't had a holiday in four years, but…'
'There's a "but"?'
'But can I get your word that the pitch will definitely go ahead?' she said, her hands clasped in front of her chest.
They are at a cross-purposes from the beginning. Nikos wants her and Jacquelyn wants to save her business. She believes in love and he believes in lust. Both are surprised by the strength of their chemistry and by just how much he tempts her. She refuses to just fall at his feet and demands that he treat her with respect. She doesn't judge him and allows him to open up about all the issues he's dealing with.
'No, you go on right ahead yourself though. Mi casa es su casa, and all that.'
In the act of pouring the water into the cup, she stopped. Cool, calm sky-blue eyes blinked at him.
'Let's not get carried away. You practically threw me out earlier, remember?'
Redeemed by Her Innocence is fast-paced and takes you from one location to the next. Bella Frances created an opposites attract romance with tension and anticipation. Ms. Frances provided interesting family dynamics and backstories. Fans of Melanie Milburne and Abby Green will enjoy Redeemed by Her Innocence.

Book Info:

Publication: Published August 1st 2019 | Harlequin Presents |
When a merciless billionaire meets a virgin beauty…
Can the beast be tamed?
Ruthless businessman Nikos Karellis won't risk his company to save Jacquelyn Jones's struggling bridal boutique. But he will give her the best night of her life! Discovering that Jacquelyn's as pure as the white wedding dresses she designs, Nikos is intrigued… But returning to Greece leaves him dangerously exposed and warring with past guilt. Could untouched Jacquelyn's sensual surrender be this dark-hearted Greek's redemption?
Indulge in this dramatic tale of seduction…