In Restless Rancher (Wild Rose Ranch #2) by Jennifer Ryan , Austin Hubbard grew up helping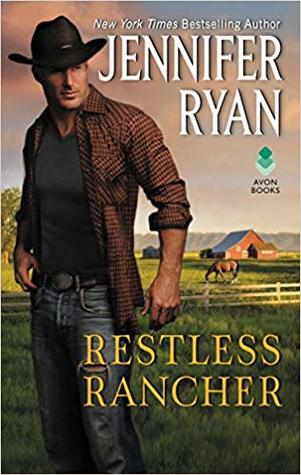 his father with the family ranch and mining business in Montana, not having to worry about where his next meal would come from or if he'd have a roof over his head. But all that changed many years later when Austin's grandfather passed away. His father wants to get his greedy hands on the piece of land left to him. But it's a piece of his beloved mother's family's history so he's sticking to his guns and hunkering down on the land. With no job and no money after his dad kicks him out of the business, the house on his land not habitable, and spending more time looking at the bottom of a liquor bottle than anything else, Austin needs to make some changes. And that's exactly what happens when feisty Sonya Tucker steps into his life.
'Money didn't mean as much to him as the people in his life. Friends like Noah who had stood by his side. And Roxy who took a chance on him.
Sonya, who saw potential in a broken man.'
Sonya is used to spending her days with numbers–she's a forensic accountant–*not* having to help a guy who's basically hit rock bottom. Not that she's never struggled in her life. Because her childhood was anything but easy. But Sonya sees potential in Austin. And in his beautiful property that has his family's history all wrapped up in it. Helping him turn it into the home and ranch of his dreams is more satisfying than she imagined it would be. And it turns out that Sonya's got a knack for renovating. But her simmering attraction for the handsome rancher has her worried she won't be able to leave when the project is done. As she and Austin find themselves falling more for each other every day, the secrets and lies his father has been keeping for years come out, causing things to take a dangerous turn.
'She wanted to dive in headfirst and let the current of this thing between them sweep them away, taking them wherever they were meant to be.'
Jennifer Ryan's Wild Rose Ranch series just got even hotter with the release of Restless Rancher. The touch of intrigue from the hero's family secrets and the smoldering passion between our lovebirds had me so wrapped up that I couldn't wait to see how it would all work out.
'He didn't deserve her. But he'd never give up trying to be worthy of her.'
Trigger Warning: View Spoiler »Physical and sexual abuse, prostitution. « Hide Spoiler
I'm having a blast with this series. It hovers on the edge of being controversial as each heroine (so far) grew up on the property of the Wild Rose Ranch, a brothel where their mothers work. But I love how Jennifer Ryan has handled that aspect as we've gotten to know the Wild Rose "sisters": Roxy, Sonya, Adria, and Jules. The close bond they formed over the years was truly that of what biological siblings would have, and it's been interesting to see how they are all so different but still rally around each other when something is happening in one (or more) of their lives.
Ryan's talent for creating dynamic couples that are perfect for each other continued with Austin and Sonya. Beginning with the couple's comical first meeting, they had sparks aplenty between them which then turned into a sweet forever kind of love. I really adored them. Sonya was a spitfire who was super capable, highly organized, great with numbers (she was a forensic accountant!! how cool is that?) and she was also kind and loving. Sonya had a great way with people. Seeing her sass Austin around a bit when he needed it had me in stitches. But she knew how to be compassionate when he needed someone to lean on. I also loved how Sonya didn't hide her attraction to Austin, and instead made sure they took their time getting to know one another before jumping into anything.
Austin was the one who surprised me most. He started off in a bad place but the more we got to know him, the more I could see just how genuine a nice guy he was. His relationship with his father, hidden family secrets, and his former girlfriend Kelly (whose POV we also got to experience) were the catalysts for most of the drama here. Ryan really made Austin and everyone involved work hard to find a resolution–which I appreciated. And even though this wasn't a redemption story, per se, we still got to watch Austin find his feet, personally and professionally, watching him show his real nature after drowning his sorrows in alcohol for the better part of a year. Gotta love seeing that personal growth.
Whether you're a fan of western-style or contemporary romance, Restless Rancher will certainly entertain, have you gasping at the audacity of some of the characters, and ultimately cheering on our hero and heroine to give in to love.
Book Info:

Publication: Published November 12th 2019 | Avon | Wild Rose Ranch #2
Meet the women of the Wild Rose Ranch—and the men who want to tame them—in New York Times Bestselling Author Jennifer Ryan's breathtaking series of romance and scandal . . .
One minute down-on-his-luck rancher Austin Hubbard slept soundly, the next, a sassy spitfire dumped a pitcher of water on his head and woke him up—in more ways than one. Hired to help him rebuild his ranch, Sonya Tucker ends up helping him put the tattered pieces of his life back together. The capable, all-business accountant is on a mission to get the ranch up and running, but can he convince the temptingly beautiful woman to take a chance on him?
Sonya was dismayed that Austin had lost it all: money, family, respectability. Things she—who'd been raised by her mother at Nevada's notorious brothel Wild Rose Ranch—only dreamed about. But working with the long, lean cowboy shows her that Austin is honorable to his core. Together they slowly grow to see what the love between them might bring.
But then Austin's powder keg of a family feud explodes, exposing long-buried secrets, and threatening their new-found love…