Reunited by the Tycoon's Twins by Ellie Darkins: This was a new author for me, and one that I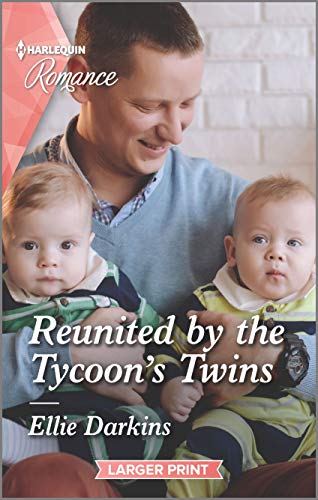 would read future books from.
Madeleine Everleigh had lost her job as a journalist and needed a place to stay while finding a new job. Her brother arranged for her to stay with his best friend, Finn, and help him with his six-month old twins. Grateful for the place to stay but weary of babies, Madeleine agreed to help Finn. She remembered him as her little brother's friend that always hung around at their house when they were kids. She hadn't seen Finn in several years, but she felt an instant attraction to him when she arrived at his house. She didn't do long term relationships after realizing men were more interested in her body and her face than her as a person. She chooses men to have fun with for a few weeks then drops them before they can let down her, so she knew she had to ignore the connection she felt to Finn.
Finn had just been through a divorce and after his ex-wife moved away, he had been trying to balance life as the CEO of his company and a dad to twins. His nannies kept leaving and he needed help until he could find a replacement. When his best friend called asking if his sister could stay with him while looking for a job and help with the babies, Finn agreed since it would give him time to find the perfect nanny. The Everleigh family had treated him like family when he was a kid while his mom was working several jobs to pay the bills and he felt he could never repay them for all they did for him and his mom.
Finn couldn't deny the chemistry he felt for Madeleine when she arrived at his house, but he had to ignore it. He had just gone through a divorce and split everything with his ex-wife. They had to sell their house and his business that he had worked so hard to build was not as stable as it had been. He felt that he had been so busy building his company that he had not worked hard enough to save his marriage. After being raised in poverty he was afraid of another relationship going bad and him ending up back in poverty. He was afraid of his business failing and not being able to provide for his two children. Can they possibly overcome their fears and have a future together?
It wasn't a novella, but still it was short. With the book being so short, I felt like the romance was rushed a little and would have enjoyed reading more interactions between the characters. The characters were good, the plot was interesting, and the book held my attention. Overall it was a good book and I would recommend.
Book Info:

Publication: April 7th 2020 | Harlequin Romance |
From temporary nanny…
…to forever mom!
Unexpectedly laid off, journalist Madeleine Everleigh finds herself under billionaire Finn Holton's roof—as nanny to his tiny twins! Maddie's always seen her brother's best friend as forbidden fruit and consigned him to the periphery of her life, but sharing his home makes ignoring him impossible… Maddie needs the job and Finn needs her help—what they don't need is the simmering tension that threatens to change everything!