In Revelations of a Secret Princess by Annie West, Princess Carolina of St Ancilla has spent the last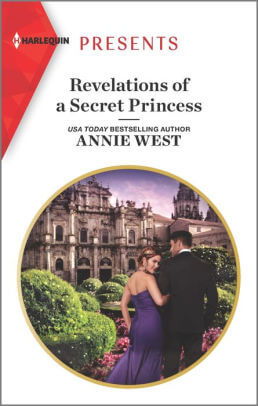 four years bereft since losing her daughter, never imagining that she would one day have the chance to see her. When Caro hears her daughter is alive and in Switzerland of all places, needing a nanny after tragedy struck Ariane's family, she doesn't think twice before disguising herself and applying for the job. But financier Jake Maynard, Ariane's uncle, is skeptical when Caro arrives. There seems to be something a bit off about her that he just can't pin down. Maybe it's their intense attraction. Jake isn't one to mix business with pleasure. But as Caro and Ariane bond, he knows he's going to have to let things take their natural course and see if the lovely nanny is a good fit for his beloved niece. And possibly for him as well.
'All that mattered was that she'd found her baby. That she was with her. She'd do whatever it took to stay at her side. And she wouldn't let anything, including Jake Maynard, stand in her way.'
Revelations of a Secret Princess was a deeply emotional royal romance that had a fiery enemies to lovers feel to it. And it was a story which had our heroine hiding her identity from our hero and his niece–for a very good reason.
'He hadn't decided if he could trust her, yet he was attracted.
Urgently attracted.
Worse, he felt compelled to give her a chance despite his better judgement because his niece showed every sign of bonding with her.'
Author Annie West had a nice setup for this Harlequin Presents. There was quite an interesting backstory for both Jake and Caro, a lot of it heartbreaking, as we learned more about their start in life and what happened to them along the way. I won't ruin the twists and turns, but will say that Caro and Jake were both understandably distrustful of those around them. I'm honestly not a huge fan of deceit in a romance. Although in Caro's case, she wasn't given much choice after finding out her daughter was alive. West did a great job of conveying the joy and awe Caro felt at seeing Ariane, getting to interact with her for the first time ever–and I bet it will bring a reader or two to happy tears.
Jake…sigh. He was a good hero overall but had a moment or two where he made a lot of assumptions about Caro and her situation that led to a whole bunch of problems. I understood his protectiveness over Ariane and even applauded it and how much he cared for her. It was Jake's treatment of Caro as he began to put the pieces of her deception together that frustrated me. He did make things right of course–I mean, it IS a Harlequin, after all!–but thankfully Caro didn't necessarily let Jake get away with things quite so easily. (lol)
Enjoyably dramatic and passionate, Revelations of a Secret Princess was the type of romance to sweep a reader off her feet and give all the feels.
Book Info:

Publication: Published February 18th 2020 | Harlequin Presents |
A princess in disguise…
To find her precious daughter, stolen from her at birth, Princess Carolina will do anything. Including masquerading as a nanny! Jake Maynard, her daughter's uncle, is all that's standing in the way of the reunion Caro has yearned for. If only her body got the message he's the enemy…
Caro knows this powerful billionaire won't give up the only family he has left. Yet after years of emotional numbness, Jake is reawakening her! He shows Caro a life filled with passion, not protocol, but what will happen when Jake discovers her true identity?