Riding Home by Vicki Lewis Thompson is the 16th book from her western romance series, Sons of Chance. Her first novel from the series was published in the spring of 2010, and each story is somehow linked either directly or indirectly to a member of the Chance family. The Chance's own and manage an extremely successful ranch in Shoshone, Wyoming and are considered to be western royalty as far as the locals are concerned. Their success is completely due to hard-work and a down to earth outlook on life. The couple focus in this book is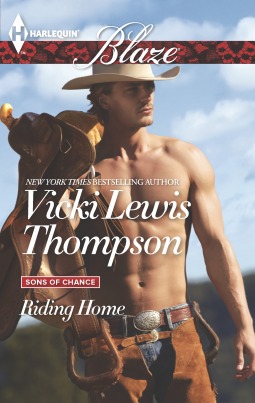 Jeannette Trenton, a successful contract lawyer from Virginia, and Zach Powell, an entertainment lawyer from Los Angeles that just got sick of the rat race and found his solace by working as a ranch-hand on the Last Chance ranch.
I found the basis for Jeanette and Zach coming together a little difficult to believe. Jeanette is in town to attend the engagement party of her ex-fiance. They broke up because she cheated on him with his best friend. Being in Shoshone for her ex, who by the way has basically forgiven her, is another step towards amending her stupidity with both him and his family. Jeanette meets Zach while he is working and the sparks ignite instantaneously.
Once I accepted and moved past Jeanette's infidelity, I was able to embrace her character wholeheartedly. She is a smart woman and once she makes a decision, she explores all her options with gusto. She loves not only with her body, but with her heart as well. Zach is one hot cowboy and I enjoyed being part of his thought process in regards to his career choices. They both personally experience an epiphany, which brings them even closer together. Jeanette and Zach have incredible chemistry and their sex scenes are scorching as well as loving.
I have read quite a few of the books from this series and each one has opened with a diary entry from the oldest and most-knowing member of the Chance family, Eleanor Chance. It provides some insight into the family dynamic in addition to some history. This type of prologue allows the reader to be introduced to one or more of the characters from the past, so that the new content is easy to understand. Ms. Thompson closes each book with an interesting epilogue about the characters from the next Sons of Chance novel. I always feel a sense of completeness after reading a Sons of Chance book.
Once again Ms. Thompson's writing is crisp and straightforward, with an uncanny ability to weave the beautiful western landscape of the Grand Tetons into the storyline. Overall a hot, sexy read.
Book Info:

Published July 15th 2014 by Harlequin Blaze | (Sons of Chance #16)
Perfect is good.
Imperfect is even better…
City-slicker lawyer Jeannette Trenton is about as welcome at the Last Chance Ranch as a rattlesnake at a square dance. She's there to atone for one major mistake. But Jeannette's pretty sure righting her big wrong does not include thinking lustful thoughts about the ranch's new cowhand….
Zach Powell knows Jeannette's type—a wound-up-tight perfectionist with one eye on her email at all times. Heck, that used to be him. She needs to shake it loose, face her imperfections and allow herself to make mistakes. There's definitely no mistake about the wickedly sexy vibe between them. This gal is gonna have to "cowboy up"…or miss the ride of her life!