In Roping the Rancher by Julie Benson, Stacey Michaels needs to get her acting career back on track ASAP, and the best way to do that is by doing the movie she has been offered which will be filmed in Colorado. The only problem is that she has to look after her teenage brother, who is traumatized after a car accident and find the therapy he needs to be able to walk normal once again. Only the doctors recommend equine therapy and Stacey doesn't know if she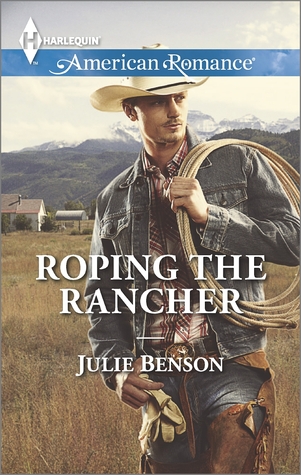 will be able to handle knowing her bother is on a horse, since her father was accidentally trampled by a horse and she was present when it happened.
Colt Montgomery runs an equine therapy program in his ranch in Colorado with his teenage daughter Jess.When he receives an application for the equine therapy he calls Stacey to let her know that unfortunately his schedule is full, unless she wants private therapy, which would be more expensive. What doesn't surprise him is that she immediately accepts the offer but wants a little more flexibility with schedule so they can work around her filming schedule.
Colt thought to find a haughty and uninterested person in Stacey when it came to the therapy for her bother. He did not expect the instant sparks between them or that she would be charming and funny. Specially considering that their first meeting she got lost, ran her car into a gate to the pasture the cows where in and soon escaped and then fell into cow dung, which is where he found her.
Stacey and Colt have strong chemistry, but with them both having to care for teenagers, things can get a little interesting. They both have to set an example to follow, even if what they want more than anything is to follow where the chemistry they both feel is leading. But there is also something else that Colt will have to deal with, and that is Stacey's intense fear of horses, which only makes the therapy more complicated and makes the horses nervous if she is there. And while Colt would like nothing more than to prohibit her being there during therapy, there is vulnerability in her that he cannot turn his back on.
Colt will have to not only help Ryan with his therapy, he also needs to help Stacey get past her fear of horses and her over protectiveness of Ryan. Butt he biggest challenge will be to help her understand that she is not responsible for her mother too, which she has been since she was a teenager after her father died. Stacey has some tough challenges ahead of her and some lessons to learn. While Colt will have to learnt that he has to fight for what he wants if he truly wants the happiness that he glimpsed with Stacey in his life. And their biggest supporters and the ones to show them both this, will be Ryan and Jess.
If you want a heartwarming and sweet read, don't miss Roping the Rancher by Julie Benson.
Book Info:

March 4th 2014 by Harlequin
No Time For Cowboys
Stacey Michaels is trying to get her acting career back on track while looking after her traumatized teenage brother and a demanding mother. She doesn't have time for romance. And if she did? Well, she'd look to date someone in the business, not some cowboy.
But when her brother begs her for a chance to try the equine therapy program Colt Montgomery offers at his ranch in Colorado, Stacey can't refuse. Even if she and Colt strike sparks off one another. She knows he sees her as a diva, but why can't he understand she just wants what's best for her brother? She's spent her whole life taking care of others—maybe it's time to let Colt take care of her.