Ruined by Jackie Ashenden is the first story in The Knights of Ruin series. It's a steamy, edgy motorcycle club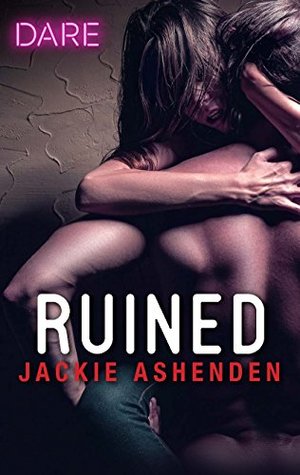 romance with a friends to lovers theme.
Cat Livingston rues the day she married her abusive ex-husband Justin but abides by the court agreement that gives him access to their six year old daughter. When he tries to break the rules and not give the girl back, Cat turns to the one man who has never let her down, her friend since childhood, Dane 'Smoke' Kingsolver.
Smoke is a member of the Knights of Ruin motorcycle club. He lives by the club rules, but he's always there for his friend Cat. To help her he needs to get her under club protection which means taking Cat as his old lady, at least in name only. It'll mean acting like a couple in public to make it look real, as everyone in the club already knows they are friends. Smoke's lusted after Cat for years but had never made a move before. Now that he has a chance to show her how good things can be between them, can he convince her to make their pretend relationship into the real thing?
If you've read Jackie Ashenden before, you'll find a familiar flavour to this exciting, intense and super sexy read. (I think my ereader still has scorch marks from some of the super hot hot scenes!). Motorcycle club romances are known for having plenty of swearing, public clubhouse sex and violence. This club ranks as one of the more palatable kind – no drug trafficking, no prostitution, no gun running. Just a strip club, motorcycle repair shops, defense of their territory and clubhouse parties. Smoke is admirable in his protection and defense of Cat, but is still a controlling, dominant and sometimes violent man, thus skirting the line of hero/anti-hero ( a line with which this author's readers are familiar).
Cat is more of a damsel in distress and also has some submissive tendencies when Smoke takes over, a relief from the day to day pressure of keeping things together for her and her daughter. She'll do anything for her child, including hanging out at the club with Smoke. When she first approaches Smoke for help he's in the middle of a sex act with another woman, which he promptly ends to help Cat. From that point on, he's faithful to Cat and determined to make their pretend relationship real. He pushes her sexual boundaries but only with her consent. And they both challenge each other to admit that their feelings are more than just friendship with benefits.
Cat's ex-husband isn't going to give up without a fight, and there are some action packed scenes later in the story to round out the plot and lead to the eventual happy ending. There are some interesting secondary characters, club mates of Smoke that I hope to see in future stories. Ruined is a steamy, gritty and exciting read.

Book Info:

Publication: Mar 01, 2018 | Harlequin Dare | The Knights of Ruin #1
"We have to act like a real couple…"
The solution? Mind-blowingly real pleasure!
Dane "Smoke" Kingsolver and Cat Livingston need to fake a relationship to get her abusive ex off her back. Convincing people their friendship has heated up to scorching levels is unexpectedly easy! But when their red-hot chemistry threatens to ruin everything they've ever known can they go back to what they had before? And do they even want to?