Rumor Has It by Maureen Child is a story about getting a second chance at love. Maureen Child has written a fast paced read with a lot of sizzling heat. This is the perfect romance to curl up with this summer!
Nathan Battle is the town sheriff of Royal, Texas. Seven years ago Nathan lost Amanda, the love of his life, when she walked out on him and left town. Amanda suffered a miscarriage, but the rumor about town was that she terminated the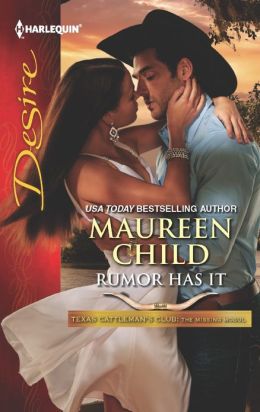 pregnancy. Nathan unfortunately believed the false accusations.
Amanda has come back to town to help her sister with the family diner. She plans to stay clear of Nathan, but in a town as small as Royal, that is nearly impossible to do. When the two come face to face with one another, it becomes clear that there is still an attraction there.
Nathan decides that to get Amanda out of his system he will bed her one last time. But he isn't prepared for the feelings that he buried long ago to come rushing back to the surface. When Amanda ends up pregnant once again, will she and Nathan be able to keep their relationship together, or will it cause them to split up and go their separate ways?
Nathan can be domineering at times. He likes to plan things out, but sometimes he forgets to consult Amanda and he comes across as being bossy. I loved Nathans deeply romantic side. He plans an evening picnic by the river that takes place under the moon and stars. I felt like I was right there with these two love-birds.
Amanda is still deeply in love with Nathan, but she is very afraid of being hurt again. It will take a lot of convincing on Nathans part for Amanda to give her heart away again. Amanda has a few surprises in store for her when someone ransacks the diner. It becomes clear that Amanda has an enemy and she is shocked to find out who it is.
Rumor Has It is an entertaining read that will capture your heart. With loveable characters and an interesting plot, you will gobble up this exciting book in one sitting! A little intrigue and mystery thrown in adds excitement and interest to the story. Maureen Child has penned the perfect summer romance.
Book Info

Publication Date: July 1, 2013 | Series: Harlequin Desire (Book 2240)
Something to Hide?
Seven years ago, wealthy sheriff Nathan Battle proposed to his pregnant girlfriend. But Amanda Altman ripped out his heart, left town—and suffered a miscarriage. Now she's back and Nathan has to get over her once and for all. But his plan to seduce her, say goodbye forever and focus on his job isn't working too well.
Upon returning to gossipy Royal, Texas, Amanda's determined not to show Nathan how much she still loves him. Yet resisting the gorgeous lawman is impossible. Especially when she discovers she's pregnant with his child…again.