Ruthless Pride by Naima Simone is the start of a sexy multi-authored series, Dynasties: Seven Sins,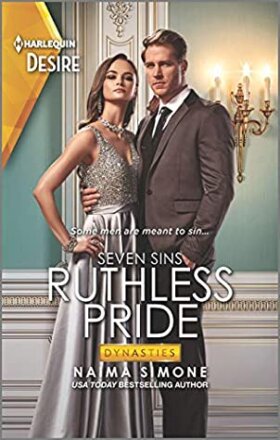 set in Falling Brook, New Jersey where the actions of one man left seven heirs shaped by his decisions.
CEO Joshua Lowell has felt the sharp sting of betrayal more keenly than others. When his father vanished with billions of dollars invested through their family hedge fund business Black Crescent, he was left to pick up the pieces. He'd traded in his dreams and passions of an artistic career for cold hard numbers and salvaging his family's reputation.
When Sophie Armstrong approaches him for an interview, all he can think of is the pain that resurrecting the ten year old story will bring, and he refuses. But Sophie has reasons for bringing up the past and the article she writes for the local paper has to be confronted head on. When Sophie also brings to him the shocking news that he might be a father, he reluctantly agrees that she'd be the best person to investigate the claims, since he has never been approached or blackmailed about an unknown child. Initially wary, Sophie soon realizes that Joshua isn't the hard man he seems and that his pain and desire for restitution for the past is genuine. As they spend time together, the passion between them flares into something dangerous – because it could lead to something all too real.
I always enjoy a good Harlequin Desire by Naima Simone! She combines passion, drama and interesting characters into entertaining contemporary romances (always a little bit on the hotter side). Sophie and Josh's tale is no exception, with the threat of another scandal making Josh very aware that Sophie could lead to more ruin, or redemption. Josh hasn't spent years rehabilitating their company's reputation for nothing, paying back the investors who lost fortunes and doing his fair share of philanthropic work behind the scenes. As Sophie investigates the claims of a forgotten child, she also discovers the real man behind the mask, and he's one she can't resist for very long.
Josh's siblings play key roles in the story and he has a strained relationship with them due to his complete devotion to the company. I'll be interested in reading their stories in the series. The main conflict in this story comes from Sophie's position as a journalist and Josh's inherent mistrust of her as a result. While they might have an easy time falling in bed together, trusting each other takes a lot more time and there are some bumps along the road to their happy ever after. But they do get a very satisfying conclusion to their romance. Ruthless Pride is a great start to what looks to be an exciting series!
Book Info:

Publication: May 01, 2020 | Harlequin Desire | Dynasties: Seven Sins #1
Pride made him what he is.
But desire might change him forever…
Millionaire CEO Joshua Lowell earned his icy reserve and arrogant pride through painful experience. He refuses to allow gorgeous but determined reporter Sophie Armstrong to dredge up his family's dark past—or circulate rumors of his secret child. But Joshua's fierce pride is at war with his heated desire for Sophie, the only woman who could ruin him…or save him from himself.