Saving the CEO by Jenny Holiday, is a fun, original romance about embezzlement, making new friends, finding one's calling and most of all, falling in love. I know it sounds kind of hokey, but reading a holiday romance by Jenny Holiday, adds another layer of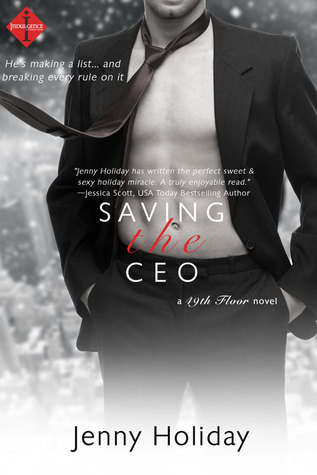 magic to this well-constructed book.
Curvy Cassie James is a 29-year-old math whiz. Bartending and going to school part-time keeps her quite busy. She has one semester left, but it will take her quite a while to complete her math degree because keeping her mother in drug rehab is her first priority, which equates to working as much as possible. Cassie is wonderful with people, but she has no love life to speak of. In her mind, her voluptuous body is a hindrance to finding the right guy. However, billionaire Jack Winters sees the real Cassie and makes her realize that she is beautiful both inside and out.
Jack has reason to believe that his CFO and best friend is skimming off the top of his extremely successful real estate company. Unfortunately for Jack, his learning disability prevents him from totally understanding his company's financials, yet he is smart enough to see that the totals do not add up. Since frequenting Edwards, the bar that Cassie has worked in for about two years, he knows that she is one smart cookie, in addition to being great to talk to and look at. In exchange for $50K, she agrees to help him with a very profitable real estate investment and figure out what his CFO is doing with his hard-earned money. Cassie and Jack have amazing chemistry, which evolves their temporary business arrangement into much more.
Jack lives by a set of stringent rules that apply to both his business and personal life, yet he seems to bend them with every moment he spends with Cassie. I enjoyed watching Cassie innocently break down Jack's barriers with her smarts and sex appeal. Simultaneously, Jack made Cassie feel loved and beautiful, for the first time in her life. The sex scenes were hot in this book, in addition to being somewhat emotional and exciting. The stress of clinching the transaction during the already busy time of the holidays, added a nice element of need to the storyline. I connected with both Cassie and Jack as individuals and as a couple, and was hopeful their temporary arrangement would turn into a happily ever after.
Book Info:

Publication: October 20th 2014 by Entangled: Indulgence
Real estate mogul Jack Winter has rules. Lots of rules. After all, a man doesn't build an empire without a little discipline. And on page one of the rulebook? Don't sleep with your employees. Especially when there's a multimillion dollar real estate deal at stake…
Luckily for Jack, Cassie James isn't really his employee. She's a hot bartender who just happens to be the math genius he needs, and if they share a wicked chemistry? Well, that's just a sexy little perk. So they strike a deal: Cassie helps Jack with the merger. And until the deal goes through at Christmas, they can indulge every sexy little impulse they desire. But the more rules Jack makes, the more he seems to break…