Saying Yes to the Boss by Andrea Laurence mixes business with pleasure as a CEO and his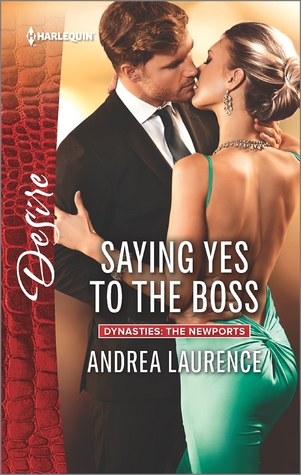 PR director become closer than ever before.
Carson Newport is the youngest Carson brother and doesn't quite feel like he belongs. The only person who seems to get him is Georgia Adams, his PR director. While Carson had his mother in his life, Georgia only had a case worker. When Carson and Georgia find the perfect place to build the Cynthia Newport Memorial Hospital for Children, in memory of his mother, Carson and Georgia become inseparable. The only problem is, another wealthy businessman has his eyes on the same land and doesn't intend to lose. Carson doesn't plan to lose that land to Sutton Winchester and sends Georgia into the wolf's den to gather information and sway his decision.
Georgia is smart, persistent, and has a big heart. She doesn't have any family but thinks of her coworkers at the Newport Corporation as her family. Georgia has fantasized about being with Carson but while their relationship is friendly it's more professional than anything.
"His flattering banter was harmless. She knew that. He'd never so much as touched her in the year she worked for his company. That didn't mean she didn't secretly want him to. It was a stupid fantasy, one that kept her up nights as she imagined his hands running over her bare skin."
When Georgia and Carson finally acknowledge the sparks between them, will Georgia finally be part of a family or will Carson and his insecurities mess everything up?
I enjoyed the banter between Carson and Georgia very much. I also enjoyed the struggle revolving around Carson's father and exactly who he ended up being. My only issue is that Carson and Georgia's problems are similar. I would have liked the book more had their issues been more different. After Carson's mother dies, he and his brothers go looking for clues on who their father is. When Carson finds out who is father really is, Georgia gets a call from her mother, who she hasn't heard from in twenty-six years. During this time, both Carson and Georgia find out they each have siblings. The conflict is a little too convenient for me and I wish one of the character's had a different type of turmoil. I will agree that since their issues are similar, it was a way for them to lean on each other and become closer.
Overall this is an enjoyable read for those readers who like to mix business with pleasure.
Book Info:

Publication: July 1, 2016 | Harlequin Desire | Dynasties: The Newports
What happens in the office stays in the office?
Real estate CEO Carson Newport is determined to build a children's hospital to honor the single mother who'd raised him and his brothers. But when his PR director Georgia Adams finds the perfect place to build, she must convince a lecherous business rival to give up his bid for the land. Carson doesn't exactly like the idea of her getting close to the enemy, especially as his own feelings for her are heating up during those long hours at the office! But will an explosive family secret prevent him from getting to know Georgia much, much better?