In Scorch (Firefighters of Montana #2) by Dani Collins, Sam and Jacqui show us just how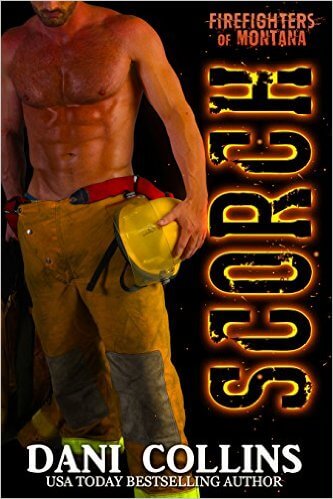 difficult it can be to move on from the past. After the death of her husband, Jacqui fled to Florida. She's coming back to Glacier Creek to clean out her home and sell it, before heading back to Florida and away from memories. At least that's what she thinks until she arrives back in Glacier Creek…because coming back feels like coming home. Just where she needs to be. Vin, Jacqui's husband's best friend, a good friend to Jacqui and an incredible support for her. Vin had a difficult childhood, never feeling like he belonged anywhere until he came to Glacier Creek.With plans to buy Jacqui's home, he finally feels like he's settling and belongs. What neither of them planned was an unexpected attraction to each other, and what to do next when your whole world is shaken.
I loved Scorch!! Dani Collins wrote with passion as she took me into the life of Jacqui and Vin, and I felt like I was right there with them. I really liked and admired Jacqui. She is a strong and brave heroine, and would make a great friend. Although she deliberately only kept in contact with Vin, she quickly reconnects to everyone and everything in Glacier Creek. She has her secrets and her own guilt, and it was heart wrenching to see her struggle to move on. She is ready to move on, she is just as attracted to Vin as he is to her, and she is getting tired of being the sad, grieving widow everyone seems to think she should be. I admired her strength, determination, and her yearning for more. I liked getting to know her more as the story progressed. Dani developed her character remarkably! I really felt for Vin, and his character seemed to struggle a lot more than Jacqui's did. He's got a lot of baggage and hurt on those big shoulders. Feeling like he'd lost his home when Jacqui decided to stay in Glacier Bay was just one more blow for him. He's a pick up and get on with it guy, but inside it's not that easy. I liked watching the evolution of their relationship, the bumps along the way, and the issues they were both dealing with together and apart. What will it take before they can both admit to how they feel and what they want? And will they?
It was easy to connect with Jacqui and Vin in Scorch. Their situation is powerful and emotional, and they felt real. Scorch is book 2 in the Firefighters of Montana series, but can easily be read as a stand alone. Characters overlap, but Scorch is told simultaneously as Smolder, and you will love Glacier Creek, Montana!
Well paced and told over just the right amount of pages, Scorch is a great read I'd recommend to any romance reader.

Book Info:

Published: June 14th 2016 by Tule Publishing |  Firefighters of Montana #2
Jacqui Edwards is back in Glacier Creek to wrap up loose ends after the death of her husband, Russ, captain of a group of daring, talented smokejumpers. She wants to stay and reboot her life, but faces an uphill battle shedding the role of the captain's fragile, grieving widow.
After growing up in foster care, Vin Kingston finally found a family when he joined the smokejumpers. Then, six months ago, his best friend and captain died in a freak jump accident right before his eyes. Vin is consumed with guilt and determined to watch over Russ' widow. No easy task when the vibrant, beautiful Jacqui is busting out of her shell and challenging Vin's vow to keep her off limits.