Sea Glass Sunrise (The Brides of Blueberry Cove #1) by Donna Kauffman is a fun summer book with a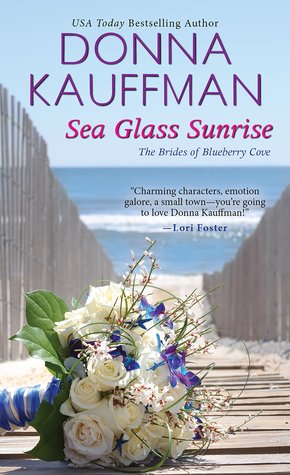 touch of mystery set in the sleepy little sea side town of Blueberry Cove.
Hannah McCrae is a hot shot D.C lawyer. Her life seems so perfect and sophisticated. She has the perfect job, the perfect boyfriend, the perfect life, until her life it not so perfect. The perfect boyfriend is married and expecting a baby, the partners in the firm find out when said wife shows up and threatens Hannah. Now with her life in shambles, Hannah runs home to Blueberry Cove for her brother's wedding and to figure out what to do with her life. She has no idea that an unexpected stop sign and a head on collision with a old wooden sign would throw her a curve ball named Calder Blue.
Calder Blue has family in Blueberry Cove. Family that has not spoken to his side in generations. Now he finds himself hired to build a yacht club in Blueberry Cove. Thinking that he might mend fences, having the feeling that there is more to the yacht club construction than meets the eye, Calder is trying to get to the bottom of this mystery. He does not count on the beautiful brown hair, blue eyed councilor who turns his world upside down with one look, one laugh, one smile.
When Jonah Blue's boat shed is blown up, it will be up to Calder and Hannah to try to unravel the truth behind the happenings in Blueberry Cove, and in the end, they might just find love and home in each others arms.
I loved the relationship between Hannah and Calder. They were funny, sweet, sexy and stood up for what they believed in. Hannah's sisters, Fi and Kelly are laugh out loud funny. There are some very funny moments in this book, a few scary moments in this book, and in the end a very sweet and heartfelt HEA. I would recommend this sweet summer time read to anyone looking for a wonderful HEA.
Book Info:

Published May 26th 2015 | Zebra | Sea Glass Sunrise (The Brides of Blueberry Cove #1) by Donna Kauffman
In seaside Blueberry Cove, Maine, friends are just another word for family, and big-city politics take a backseat to local pride. But the real treasure on these shores is always love…
When D.C. lawyer Hannah McCrae heads home for her brother's wedding, she's dragging a lot of baggage along with her—and she doesn't mean suitcases. Betrayed personally, and humiliated professionally, the last thing she wants is a new man. That's fine with square-jawed, rugged contractor Calder Blue. He and Hannah may be wildly attracted to one another, but all he wants is to build the town's hotly contested new yacht club and mend a centuries-old family feud. Yet thanks to resentments old and new, day after day the pair wind up tangled in each other's business—and maybe soon in each other's arms.
Every bride needs something "blue"…
Includes a delicious wedding cake recipe!