In Searching for Someday (Love Spells #1) by Jennifer Probst, Kate Seymour spends her days finding true love for her clients at Kinnection, the matchmaking agency she runs with her two best friends. But she wonders when she will finally find her own match made in heaven. Kate has the ability to feel a connection between two people when she touches their skin, feeling an almost electric charge. That's when she knows they are destined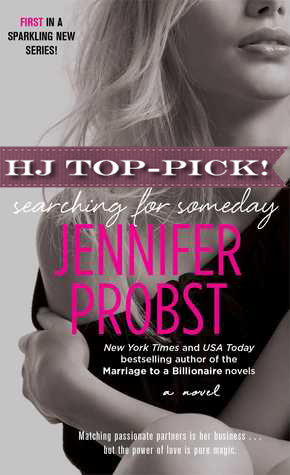 to be together. Women in her family have had this ability for generations and although Kate tried to fight against it growing up, it has made her matchmaking job much easier.
'This was what she'd been waiting for–a man to want her with the passion that wasn't quite civil or proper.'
Then Kate meets Slade Montgomery. The phrase "instant attraction" doesn't do justice to the static charge she felt when they briefly touched. Kate knows this electricity means Slade is The One. However, he couldn't be more different than who she pictured she would fall for. As a divorce attorney, he's jaded when it comes to true, lasting love, yet she is a firm believer in forever. No matter how determined she is to stay away from Slade, Kate finds herself back in his arms and hoping she can convince him to give them a fighting chance. But will he accept their destiny or run away?
"My job is to find you a satisfying, fulfilling relationship with someone else. I don't want you to lose sight of the goal."
He took a step forward. "What if I told you I have my goal clearly in sight?"
Slade Montgomery is a divorce attorney who is also divorced, himself. He doesn't believe in true love or a HEA. So when he finds out his beloved sister has gone to Kinnection to find the man of her dreams, he goes into overprotective brother mode and gives owner Kate Seymour a piece of his mind. Kate is completely different than the typical type of woman he pursues, but once he meets her he can't get the fair-haired beauty out of his mind. She wants everything he can't give to her, yet their intense connection rattles his resolve. Can they find a compromise that will allow them both to get what they want out of this relationship?
'He ached to kiss her, glean if her lips really tasted like the cotton candy he adored, and put to rest some of the crackling sexual tension.'
I. Love. This. Story.
Searching for Someday is a fantastic contemporary romance with captivating characters. This is basically an enemies-to-lovers trope with some whimsical magic thrown in to give it a quirky twist. Of course, Jennifer Probst is a go-to author for me, and for a lot of other romance readers out there, I'm sure, so it's no surprise this newest series is a winner.
I loved all of the characters we get to meet in this book. Kate's best friends Kennedy, Arilyn and Genevieve are all so different yet they bring out the best in each other so it works wonderfully. I thought Kate's mother was hysterical. She's such a free spirit and only wants the best for her daughter. And Robert. Well…I fell head-over-heels in love with sweet little Robert and his bravery. I confess to crying during the scene where Kate talks about how they met, and at the end of the book as well. Happy tears, though.
Our protagonists Kate and Slade made it difficult not to curse at my Kindle, I must say. They both fought their emotions every step of the way and tried their best to stay away from each other. Kate was used to being the outcast and was a bit distrustful of giving away her heart, which is easy to relate to. Slade was jaded from his previous relationship and with the atrocities he sees as a lawyer. I wanted very much to hate Slade for denying himself a chance with Kate but then he would go and redeem himself time and again. Plus he turned out to be a very dirty-talking, naughty guy, so I forgive him. 😉
I highly, highly recommend reading Searching for Someday. It has witty dialogue, sexy romance and a wonderful HEA ending. I can't wait for book two: Searching for Perfect!
Book Info:

 HJ Top Pick  | Series: Love Spells #1  
Expected publication: November 24th 2013 by Gallery Books
Kate has given up on love—at least for herself. She is both blessed and cursed with the ability to sense a romantic connection between two people—a gift that her family passed down for generations. When Kate launches her own matchmaking company, Kinnection, with her two best friends in a cozy New York town, she has to put aside her own romantic disasters to make her business a success.
But when a furious man stalks into her office and accuses her business of being a scam, Kate is given the ultimate challenge to prove herself. Slade puts himself in her hands and asks Kate to find him love. Enraged at his arrogance but stubbornly eager to prove herself, Kate agrees, dedicating herself to the journey of finding him love…only to find herself falling for him along the way.