In Second Chance Christmas by Tanya Michaels, Elisabeth Donnelly is known as the quiet, reserved, mature and responsible Donnelly twin. So when she started dating Justin Cade, whom at the time was working for her family as a hiking guide, she was encouraged by her sister to do what she would not normally do. Their time together was great and she fell in love with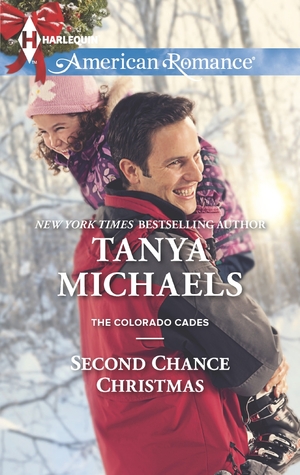 him almost immediately, but when she told him he dropped her faster than she could blink and quit his job at the lodge.
Justin knows loss, and he doesn't want to commit himself only to lose once again. He only commits to his siblings and even then he still holds back a little. He was there when his sister fell pregnant by a near stranger and helped her throughout her pregnancy and her courtship with her baby's father, always keeping the right amount of humor to make sure that things didn't get too serious.
So when Elisabeth told Justin she loved him, he knew he had to break things off immediately before he hurt her or he lost her. It was hard enough being close to her while her best friend was dying the same way his mother did, but then she also took custody of her goddaughter Kaylee and things only got more complicated for him.
Only things are not as easy as Justin wishes, for now Elisabeth's twin is chasing him and blaming him for Elisabeth being engaged to get married and about to leave town for good. He can't help but feel like something deep down reacts to the news of not ever seeing her again, or her belonging to another man. All he can do is make sure that marrying so fast and moving away is what she really wants.
Elisabeth's fiancé will come into town for the weekend to meet the family and get closer to Kaylee. But Justine ends up spending more time with Kaylee and Elisabeth than he expected and it will bring feelings that Justin believed were not in him. But his close relationship with Kaylee may bring problems to Elisabeth's plans with her fiancé, and the fact that Elisabeth doubts her way of raising Kaylee as she never had any experience with children before.
Second Chance Christmas is a great holiday romance, it has just the right amount of miracle with a little girl who will get under Justin's skin and break the barriers around his heart, Justin may just be able to salvage and get what his heart really wants. The interactions between Kaylee and Justin will make you smile and laugh as she slowly gets Justin to open up his heart to love.
For a sweet and cute Christmas romance don't miss Second Chance Christmas by Tanya Michaels.
Book Info:

December 3rd 2013 by Harlequin American Romance (Book 1479) |  The Colorado Cades
A Christmas To Remember
Ski-lodge manager Elisabeth is the quiet Donnelly twin – sedate, mature, responsible. It wasn't like her to fall in love with ski patroller Justin Cade, famous for his killer smile, blue eyes and way with women. But it was just like him to dump her when things began to get serious.
Now he's suddenly back in her life, and the timing couldn't be worse. Elisabeth has plans to marry a successful businessman, and with Christmas around the corner, she wants to make the holidays special for her adopted young goddaughter. Falling for Justin all over again would definitely not be the sensible thing to do. But maybe, for once in her life, Elisabeth should follow her heart instead of her head.