Secret Prince's Christmas Seduction by Carol Marinelli: Antonietta is desperate to get back on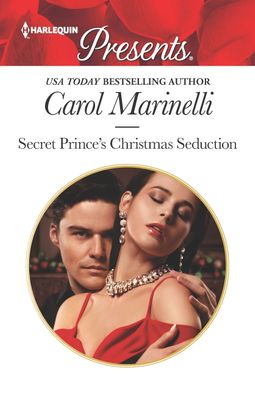 good terms with her family after leaving abruptly years ago. She's now working in the new hotel and trying to mend fences any chance she gets. She's sweet, hard-working, dedicated, and tries to avoid gossip as much as she can.
Rafael is a playboy prince in need of a place to quietly recuperate after yet another accident. He yearns to take on a bigger role at home, yet he parties and enjoys his life to the fullest. He's sexy, handsome, overwhelming, and used to people wanting the title and not the man. He lives life hard and fast, but that life is also growing tiresome.
Antonietta is great with the many guests at the hotel, which is how she ends up attending to suites for the VIP guests. She always remains professional, but there is something about the latest VIP that pulls her in. Rafe is definitely looking the worse for wear, but Antonietta is a welcome and soothing presence.
'I lied to you,' Rafe said as she approached.
'You are married…'
She knew it! He was simply too good to be true.
'No,' Rafe said, 'but this is a date, Antonietta.'
Rafe enjoys just talking to Antonietta but he also wants more. Antonietta is so very different from all the women in his past and he can't stop thinking about her. He tempts her into taking chances and stepping outside the normal boundary she imposes with men. He listens and pays attention to her while she shows him another way. They connect beyond their chemistry, but the clock is ticking on their affair.
'I don't care that you're leaving tomorrow,' she told him. 'I care only that you're asking me to leave now.'
He weighed her words as he stood there. And they were heavy ones, for she was trusting herself to him. 'I'm not asking you to leave,' Rafe said. 'I'm just asking if you are sure.'
Secret Prince's Christmas Seduction has secret identities, forbidden romance, passion, family, conflict, and friendship. Carol Marinelli developed two characters looking for something and find the unexpected instead. Ms. Marinelli created good mix of personalities with this cast of characters and infused the spirit of the holiday season. Fans of Abby Green and Kim Lawrence will enjoy Secret Prince's Christmas Seduction.
Book Info:

Publication: Published November 1st 2019 | Harlequin Presents |
Claimed by the prince
For Christmas or forever?
Sicilian chambermaid Antonietta prides herself on her discretion, so she's mortified by her inappropriate reaction to her hotel's newest guest! Antonietta has no idea Rafael is the notorious prince of Tulano. All she knows is that his touch lights her up more brightly than a Christmas tree.
Their unexpected connection floors cynical Rafe. All he can offer is a temporary festive seduction before resuming his royal duties. But unwrapping the precious gift of Antonietta's virginity changes everything. Rafe must choose—his crown, or Antonietta…