In Seducing Cinderella by Gina L. Maxwell Lucie is a physiotherapist who has been pining over a Doctor she works with for years. Lucie has a complete lack of self confidence however, and for most of her adult life has blended very well into the background. She is devastated when the Doctor wants to take her best friend out!
Reid is a MMA fighter who is out injured. When his physiotherapist gets called away for a family matter, he is sent to Lucie. He is full of doubts about this new physiotherapist being able to get him back into fighting shape until he realizes who Lucie is…the 'little' sister of his good friend who he's known forever! But Reid needs a therapist who will put him as the number one priority, push his limits, and get him ready for his big fight in 2 months. Reid convinces Luci that in return for her living with him for 2 months and working solely with him, he will give her seduction lessons so that she can finally catch the Doctor's eye as a desirable woman!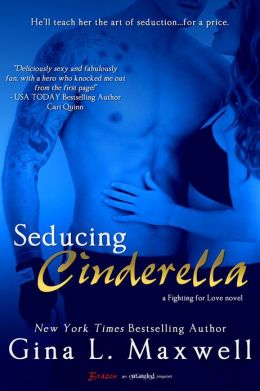 Lucie doesn't care about love…she's been burned once by a previous, brief marriage. She is looking for compatability in a relationship, and she's convinced that her and the Doctor will have this together once he finally 'sees' her. The farther into the seduction lessons Reid takes Lucie though, the more the lines become blurred. He finds himself drawn to her differently than with any other woman. "Lucie was refreshing and so damn responsive. He loved keeping her on the edge, always wondering what he'd do next, and then shocking her – and sometimes even himself – with his next move." Lucie finds herself thinking more and more about Reid rather than the Doctor, even though there is no way a relationship between her and Reid could work!
Soon Reid is romancing Lucie for himself, not the Doctor. Lucie had 'mooned' over Reid as a young girl, but because of her failed marriage she believes for a relationship to work it has to be based on compatablility, and love may or may not factor into it, but can't be the basis for a relationship. She is determined to believe this even though she starts feeling more for Reid than she ever has for the Doctor (who have I mentioned has never really noticed Lucie?)…Reid does things to her and makes her feel things no one ever has. Reid loves Lucie as she is, without any big changes. But Reid has issues of his own and he doesn't believe he'll ever be good enough for Lucie. He hasn't had a stellar example of a loving relationship and doesn't feel he has it in him to give. Both Lucie and Reid have self confidence issues, even though Lucie's is more out in the open than Reid's. They will need to over come these before they can see the possiblity of a future together. Are they strong enough to do this? Are they willing to take the risk? Or will it be easier to be unhappy apart than take the chance together?
Seducing Cinderella was a great, well flowing story that was funny at times, heartwarming at times, very sexy, and at other times had me wanting to scream with frustration over Lucie! Gina drew me into Seducing Cinderella and made it hard to put it down!
I think many of us can relate to Lucie and her self confidence issues. Lucie's determination that the Doctor was the one for her was irritating at times, especially once we got to know Reid better and see how great he is! I was happy Seducing Cinderella did not focus a lot on the MMA aspect of Reid's life, but of other parts of him that helped make him who he is. Reid has a lot going for him! Both Lucie and Reid were realistic people I could totally picture in my mind, and the relationship they had was believable. I liked that there was not a ton of unnecessary drama leading us on twists and turns away from the main story. I really liked Lucie's best friend Vanessa…she's pretty opposite of Lucie and really good for her!
Seducing Cinderella is a funny, romantic, and really hot/sexy read! I'd highly recommend it, especially if you like steam rising from your pages!
Book Info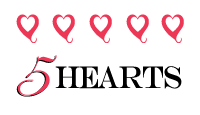 Entangled Publishing Brazen Publication Date: February 26, 2013 | Series: Fighting for Love
Mixed martial arts fighter Reid Andrews's chance to reclaim his title as light heavyweight champ is shattered when he's injured only months before the rematch. To make sure he's healed in time, his trainer sends him to recuperate under a professional's care—Reid's best friend's little sister, all grown up.Disorganized and bookish Lucie Miller needs some professional help of her own. She'd do anything to catch the eye of a doctor she's crushed on for years, so when Reid offers seduction lessons in exchange for 24/7 conditioning for the biggest fight of his career, Lucie jumps at the chance. Soon Reid finds himself in the fight of his life . . . winning Lucie's heart before she gives it to