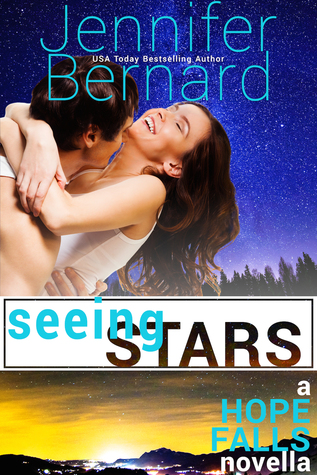 Seeing Stars: A Hope Falls Kindle World Novella by Jennifer Bernard: An amazing sweet short story that never once felt rush, did not feel like a novella, the characters were emotional, and developed, and real. This story is a little like the princess and the pauper. Famous star falls for her bodyguard, bodyguard falls for the famous star. This is the story of Starly and Hunter.
Starly Minx has been in the public eye for as long as she can remember. She is followed, she is written about, and she has a long standing feud with her frien-enemy, Karina Black. When she realizes that she needs to make things right with Karina after freezing on stage, she takes off to Hope Falls to set the record straight and to make amends. What she never counted on was being hunted down by the bodyguard that she wants more than her next breath, Hunter.
Hunter McGraw has been in love with Starly from the moment he layed eyes on her. For over a year he has protected her, guarded her and tortured himself with her nearness, knowing that she was so far out of his league that they were practically on different planets. Before resigning for good, his last job is to go and find Starly, make sure that she is safe and does not get herself into more trouble.
When Hunter and Starly are thrown together to get Starly to Hope Falls, and things heat up between these two, will an old feud, misunderstandings, misleading text messages and the paparazzi come between these two or will they finally get their shot at happiness.
The chemistry between Hunter and Starly is amazing. The fact that both were in love with the other and neither one knew it made this such a sweet love story. Starly's need to make amends with all of the people that she wronged, or thought that she wronged, showed us a vulnerable side to this complex character. The protective nature of Hunter, even with Starly misunderstood what was really happening showed the depth of his love for her, the lengths that he would go to keep her safe, to prove to her that she would always be safe with him.

Book Info:

 Published June 28th 2016 | Kindle Worlds |
When pop star Starly Minx freezes onstage during a show, she knows what her guilty conscience is telling her. She has to make things right with her nemesis, Hope Falls' own Karina Black. And she has to do it without the paparazzi finding out. If only she didn't have to leave behind the man she's been secretly pining for—her sinfully hot bodyguard Hunter McGraw.
Hunter just turned in his resignation. He desperately needs to get some distance from the distracting, enchanting Starly and get on with his life. But if she's going to Hope Falls, he's going after her. Who else is going to keep her out of trouble? And with two feuding pop stars in the same tiny town, trouble is inevitable.
They can deal with the paparazzi. They can deal with the curious Hope Falls residents. But can they keep their feelings secret from each other? Is that even possible when every touch has them seeing stars?