Sex on the Beach trilogy

by Jenna Bennett, Jen McLaughlin, and Jennifer Probst.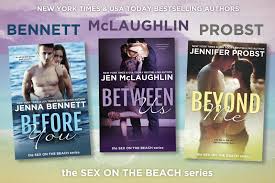 Delightful and charming – sometimes angsty and deep, they got some fabulous authors to get these stories right!
Before You (Sex on the Beach) by Jenna Bennett When her drink is whisked away from her and the "Female Body Inspector" sidles up next to her at the bar, Cassie has high hopes for finally ditching her V-card during spring break. Ty seems to be everything she's looking for, and even though he's spotted her invisible "good girl" tattoo, maybe he'll be the one to take her up on her offer anyway.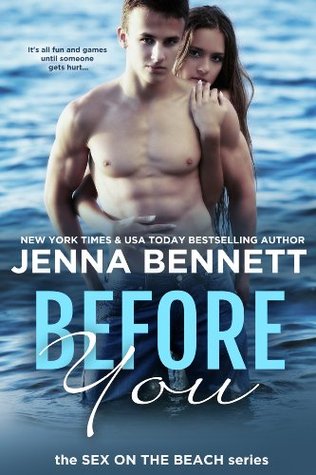 Ty sees the sweet girl underneath another girl's clothes and he instantly likes her. Too bad he has other obligations. There's nothing he'd like more than to hang out with Cassie like a normal collage couple in Key West – but for him, it's a walk to her hotel and a longing glance goodnight from her. Against his better judgement, he can't seem to stay away from her either. And when they find the first girl on the beach – drugged, raped, and not so different from Cassie, things get tense in Ty's world.
With Ty attached to someone else, or so he's said, Cassie is at least going to see the sights. Graveyards, Haunted Houses, Creepy folktales – but they seem like nothing compared to what's happening in real life. Every day a girl winds up being attacked, and that girl always seems to look like Cassie. The more she learns, the more she realizes that Ty and the rest of the people she's meeting are involved, but just who can she trust?
When it becomes apparent that Cassie herself is the target, can Ty allow her to become bait to save other girls from being raped? He only knows his life has never been this complicated.
This is the first of the "Sex on the Beach" trilogy for me, and I enjoyed it. It wasn't a total slam-dunk – I thought it perhaps strayed from the main story a bit much and talked about Key West more than it should, but it wasn't terrible to read about the local sights and sounds. The other two books were referenced heavily enough to interest me (I was already planning to read them), but this could also be read as a stand-alone.
I think my main issue with Before You is that the actual romance between Ty and Cassie is quite short and hard to latch on to. Not that they weren't sweet on each other – not by a longshot. They're an adorable couple, but while the whole story is unfolding, they're not in a real relationship. I guess I just would've liked a tad more tacked on the end for *my* HEA. 🙂

Between Us (Sex on the Beach) by Jen McLaughlin: Austin doesn't need any complications in his life. He's got enough already. So tending bar and singing during spring break in Key West is like navigating a mine field. But seriously, Mackenzie Forbes? Coming on to me? I can't pass that up. She's gorgeous, and sweet, and she knows what she wants. No strings fun for the week – and I can give it to her. She acts like she doesn't want me to know who she is, so why should I tell her I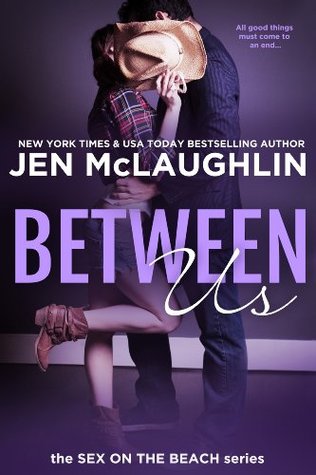 already figured it out?
Mackenzie just wants to be a regular girl for a change. She dyed her hair and essentially bribed her two best friends to join her in Key West for spring break. Not that it's a hardship to be with Quinn and Cassie – and they desperately needed the vacation too, but the trip is for Mac. It's time for her to shed the good girl image and just be herself.
As soon as she sees Austin behind the bar she knows he's the one. He may not be what she pictured before she arrived, but he's definitely what she wants now. She's drawn to him like a moth to a flame, and there's no stopping it. It's just Mac and Austin for a week, no paparazzi – no demands on her time – no questions about her life, perfection.
But everybody has a dark side. Especially Austin and Mackenzie. They're more alike than they know, and perhaps learning about the darkness within is what they were meant to do. Lies and misunderstandings can be forgiven – but they still come with prices. Can they be paid off before time runs out?
I *loved* this story. This was my second read in the "Sex on the Beach" trilogy, and it was much hotter and has a more adult feel than the first. It also has a clear HEA, which I wanted to get on record for those that prefer those types of endings. Mac and Austin are super complicated characters, and to get them fleshed out in such a short story is amazing storytelling.
I enjoyed seeing scenes that were portrayed in the other book from another perspective – they were done artfully and faithfully. That means the authors are working well together as a team. I dig that. Also, these covers are adorable. I really hope we get more of these NA trilogy novellas. I think it's a great idea and super fun.
Great NA Novella from Jen/Diane – Highly Recommended.


Beyond Me (Sex on the Beach) by Jennifer Probst From the very beginning we were a cliche. Eyes locked across a crowded room, opposites attract and all that – but Quinn couldn't help herself. Even turning her back on the guy didn't cut it. It was just a silent challenge to come over and make his move. James is everything she doesn't want, but if she's looking for a good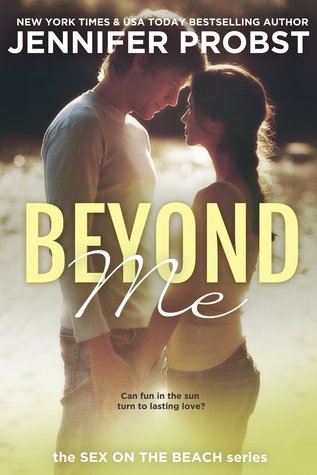 time during her week in Key West, maybe a 'good-time guy' is something to give in to.
James is riveted by her the moment he sees her. Totally out of place at one of his rich-guy parties, leaning against a rail in a one-piece for cripes sake. But she does something to him. And it's not just the something stirring in his pants like his friends are intimating. He'd already gotten a bead on her when they proposed the bet to get her into bed, so maybe he can kill two birds with one stone.
After a couple of false starts and some prodding from her BFFs Cassie and Mac, Quinn gets the feeling that James Hunt might be more than the shallow rich boy he appears on the surface. But that's not what matters, he's hot, and he wants her, and she *definitely* wants him. So her goal is set – James is hers for the week, and so are a few orgasms.
Neither James nor Quinn know that a simple sailing day would turn into a life-altering event. They see through each other as clearly as they can see into the sparkling reefs around the private island James commandeered for the day. But can the feelings they find for each other hold up outside of their solitary paradise? There are things to be found out, comparisons to make, inadequacies to get over… a lot to take on over Spring Break in Key West.
Wow! This was the last of the three "Sex on the Beach" books that I read, and I think it was my favorite. Almost a tie with 'Between Us', but I think I identified with Quinn more. And James… whew – who knew they made Alphas that young? He was also pretty deep for a shallow rich guy, and I would've liked to hear more about his art – but in a novella, that's asking a lot.
We get an awful lot of character development in this short amount of story – James is complex, and Quinn is a super smarty. I really felt like I knew both of the main characters. Even though James' pals aren't fleshed out, it's cool because they're pretty much dicks. Seriously. That's the best word. Again, there are a few conversations between Quinn, Mac, and Cassie that we get to see from Quinn's side, and I loved that.
For me, this was an amazing finish to the "Sex on the Beach" trilogy, and I'll be looking for more of these novella groupings from this publisher. Delightful and charming – sometimes angsty and deep, they got some fabulous authors to get these stories right!


Book Info:
Published February 28th 2014 by Magpie Ink
Part of the Sex on the Beach trilogy by Jenna Bennett, Jen McLaughlin, and Jennifer Probst.
Three books. Three authors. One series.
Three best friends. Three guys. A week in paradise they'll never forget!
It's all fun and games…
Cassandra Wilder had a simple plan for spring break.
Sun, sand, and a hot guy. Sex on the beach, with no strings attached.
She got her wish when she met Tyler McKenna.
Until someone gets hurt.
But then young women start turning up at Key West landmarks – young women who look like Cassie, but with one crucial difference: they've all been drugged and relieved of their virginity.
And Cassie begins to wonder whether there's more to Ty than meets the eye.
Suddenly, sex on the beach doesn't sound so good anymore…