Sins Of The Flesh by J. Margot Critch Politics and pleasure do not go together, unless of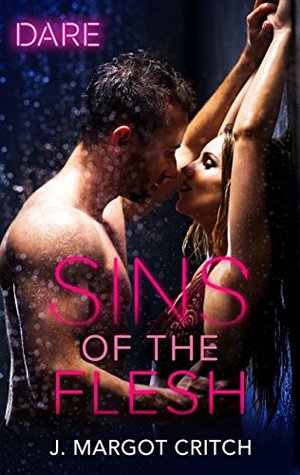 course you want to see some pretty heavy duty explosions, right?
Jessica Morgan thought she could do it all, live her life, protect the people, and have her passion. The reality was a bit harsher than that, someone was bound to find out and what would happen then? Would her dream of becoming mayor ever be fulfilled if she truly lived her life the way she wanted?
Rafael Martinez was one of the one percenters, but he hadn't always been. He was from a family who worked their way up. He played by the rules, but sometimes by a different rulebook. He really was out to look out for the people and not just of the city, but of the United States eventually. The problem was when a woman came out of nowhere and started to challenge. What would he do to win?
In a town where Sin is part of the name what will two good hearts do to fulfill their dreams and their passions?
This is a good one. This a story you aren't going to want to start without the time to read all the way through or another set of panties. Yes, it is that hot with that much steam between Rafael and Jessica even when they aren't engaged. That takes a special talent to write and Ms. Critch has done it. The byplay is amazing and I for one truly hope the Brotherhood will have a series coming out. One thing that makes this a standout novel, the twist at the end that even if you think you see coming, you won't see it ending the way it does. True skill in making you eagerly await even the final page.

Book Info:

Publication: September 1st 2018 | Harlequin Dare | Sin City Brotherhood #2
When it comes to sexual politics
They're playing dirty!
The mayorship of Las Vegas is down to two candidates, and Jessica Morgan is ready for a fight. Golden boy Rafael Martinez is a successful businessman—and a wickedly sexy egomaniac. He may be her opponent, but there's something so irresistibly hot between them! Then all it takes is one little leaked sex tape to turn this election into a Sin City sensation…