In Staking His Claim (Line of Duty #5) by Tessa Bailey, Matt Donovan is pretty sure he'll regret helping out his best friend Brent Mason by picking up his younger sister Lucy at college. He's heard she's a nuisance, always causing trouble somehow. But instead, Matt has to drive her roommate, Sasha, back to New York and he finds himself in quite a predicament. She stirs emotions and desires in him that he's held back for a long time. After things get a little too heated during their road trip, Matt delivers her to NYC only to find out that Sasha is really Lucy. He has no tolerance for someone lying to him. Yet he can't seem to stay away from Lucy. Could she possibly be the one to fully understand his need for dominance or will she decide it's too intense for her?
'For the first time he could remember, he didn't know if the controlled part of him would win. Not where Lucy was concerned.'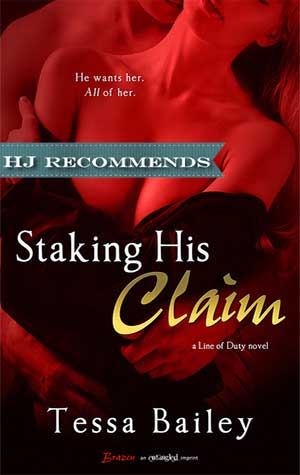 Lucy Mason has a new Masters degree tucked under her belt and is ready to let off a little steam. Years of studying and trying to be good has gotten old. Opportunity in the form of her brother's BFF, NYPD sharpshooter Matt, appears at the perfect time. Only Lucy knows Matt will never fool around with his best friend's little sister. But as soon as she lies to Matt, pretending to be her roommate Sasha, she knows she might have messed up what could be the most incredible relationship of her life. Lucy isn't sure if Matt will ever forgive her, but she has to try. He's helped her experience a side of herself, a submissive side, she's never given into before and she definitely wants to explore more of it. If she can just get him to open up.
"What do you want from me, Matt?"
"I tried to tell myself wanting you, keeping you, was selfish. Maybe it is." His lips brushed her forehead. "But I'm lost here, Lucy. I'm lost without everything you've got."
Staking His Claim is yet another super steamy romance in the Line of Duty series by Tessa Bailey. Get ready for a relationship that starts off based on a lie, it gets kept under wraps from family and friends, and loves scenes featuring a dominant alpha male and a woman who never knew she had a submissive side. Holy. Hotness.
Together, I thought Matt and Lucy were so incredibly intense. He was protective and possessive of her from the very beginning, not able to leave her alone although he knew it was best for both of them to stay away from her. Lucy could see right through him and stood up for what she wanted, which I loved. They both tap-danced around their feelings at times, not really wanting to get into a serious conversation which I felt was quite realistic for a lot of couples. But once they started opening up and letting each other in, the connection they had was pretty magical.
Now there is light BDSM in this story and their romance is quite physical. So if you're not into the erotic side of romance…you've been warned. 😉 I, however, loved the passion between them. It seemed like a natural part of Matt's personality to be in control, and at the same time, I could see Lucy having a submissive side that only he could bring out in her. Seriously, their love scenes were way off the hotness charts!
If you've read any of the previous four novels, you'll want to get this newest addition. The couples, especially Brent and Hayden, are mentioned so we can catch up with them. However, if you are new to the Line of Duty series, these can definitely be read as standalones. If you like your stories very, very spicy…Staking His Claim is for you.
Book Info:

Published February 3rd 2014 by Entangled: Brazen
He wants her. All of her.
NYPD sniper Matt Donovan is in Hell. Instead of driving his best friend's little sister home from college, he's stuck with her roommate—a fresh-faced ray-of-sunshine with a body that makes grown men weep. There's no way he'll allow himself to taint the little vixen, no matter how hard she tries to tempt him, so he resigns himself to the longest—and hardest—drive of his life.
Matt's obvious attraction suits grad student Lucy Mason just fine. She had no idea her brother's best friend was so deliciously hot. Knowing he'd never have his wicked way with his buddy's sister, she lies about her identity and seduces him. But Matt's no fumbling college boy. His desires run deep—and dark—and he wants to teach Lucy what wicked really means.
Matt's demanding appetites only make Lucy want more. But when her cover's blown, he's furious—even as his hunger for her becomes insatiable. Matt can't trust anyone, least of all himself. And he knows all too well that darkness always destroys the light…