In Status Update (Second Chances #3) by Mari Carr, recently divorced Laura Saunders is finding it difficult to move on with her life after 23 years of marriage and a year of being single. She wanted the divorce because she was terribly unhappy, and now after being out of circulation for so long, she has no idea how to be happy. So with the help of her girlfriends, she comes up with a few New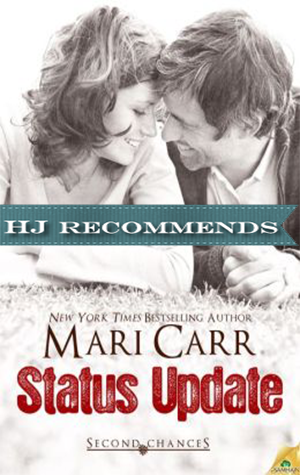 Year's resolutions that will undoubtedly jump-start her humdrum existence into the fun-loving party girl she never got the chance to be. A makeover, new clothes, dancing and joining Facebook are at the top of the list.
Widower and engineer Bryan Sinclair noticed Laura the minute he stepped into the club. He and Laura were best friends many years ago, until they lost touch after his family moved away during his junior year of high school.
Laura and Bryan reestablish their friendship immediately, reminiscing about old times and learning about each other all over again. However, this time there are sparks igniting everywhere. One thing leads to another and they find themselves in bed, experiencing the best sex of their lives.
They quickly become a couple, although Laura is unsure about falling in love again. She does not want to get hurt and she does not want anyone to dictate to her ever again. Although life throws them a few curve-balls, they manage to reap the benefits of a second chance at love.
I highly recommend this book! To begin with, I love the cover. The combination of grayscale and dark red is an real attention grabber, along with the harmonious fonts. The couple on the cover appear happy and playful while sharing a quiet moment together. Secondly, the main characters, Laura and Bryan are real people, with identifiable past and present experiences. Their relationship is honest and genuine on so many levels, the reader can easily feel their connection to each other. It is refreshing to read a love story about two people in their early forties, which seems to be a rarity these days. The love scenes are so sexy they left me breathless, and Bryan's alpha male temperament is a real turn on if you enjoy that level of passion. This is the third book in the Second Chances series and it can be read as a stand alone.
Book Info:

Publication: October 29th 2013 by Samhain Publishing, Ltd.
Second Chances, Book 3
Some things never change. Others never stay the same. Thank God.
Laura Sanders thought post-divorce life would be simple. What a rude awakening to realize that after too many years as a wife and mother, she's stuck in a rut so deep she's forgotten how to have fun.
Determined that this year will be different, she sets a New Year's goal to rediscover the woman she used to be—the one who loved to dance, to laugh, to kiss.
When Bryan Sinclair spots his best friend from high school in the Blue Moon bar, he wonders how the hell he failed to notice her beauty and vitality all those years ago. Laura's confession that she plans to experience lost opportunities tempts him into joining her on the journey.
Together they make up for lost time, in and out of the bedroom. But there's one area in which Laura has no plans to change the status quo—her heart. And Bryan has his work cut out convincing her to take another chance. On him. On forever.