Steadfast is the second book in Sarina Bowen's True North series, set in picturesque Vermont.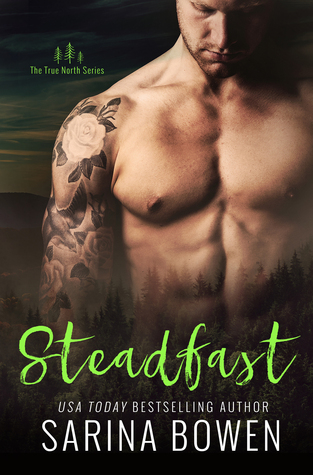 When we met Jude as a secondary character in Bittersweet (book 1 of the series, and also a standalone story), he had just been released from a three year prison term for manslaughter, and had gone through a detox program to help him with his drug addiction. He worked on the Shipley's farm for several months, gaining some friends and a step hold in his recovery but the job is not finished, and he's gone home. Home – to his alcoholic father, a town that eyes him with wariness and suspicion, and the hurt and betrayed eyes of his ex-girlfriend Sophie, sister of the man he killed in a drug fueled car accident. It's the last place Jude wants to go, but you know the saying 'Home is the place where, when you have to go there, they have to take you in'.
Jude's plan is to work for his father at his auto garage, live with him until he's made enough money to find his own place and then …well… he's not sure what after that, just that he's determined to continue with his recovery. He doesn't expect to encounter Sophie, the girl whose family he destroyed on that horrible night three years earlier. They had been young and in love and he'd been hiding his drug addiction from her until things got out of control. He'd always assumed she had picked up the pieces of her life and gone on to follow her dreams of music school. When he encounters her again, he's as startled as she is. But like moths to a flame, they are drawn to each other, no matter that the consequences could be disastrous. Can two damaged souls find healing and forgiveness in a second chance at love?
Where Bittersweet was a lighthearted and sexy romance, this story definitely takes an emotional turn into the realities of drug addiction and its consequences. There is no magic healing for Jude. He started his addiction with prescription meds, learning from friends how to snort them, and upgrading to more and dangerous drugs until his life revolved around his next hit. He hid this all from Sophie, his high school sweetheart, ashamed of his habit but unable to stop. Then it all came crashing down on him. Prison was no help with his addiction, instead fueling it with easily available heroin. After his detox program, he made his unsteady way to the Shipley farm, where they took a chance on the ex-convict, to his eternal gratitude. The farm was the perfect place to stay clean – hard work from sunrise to sunset, and no time or desire to search out local drug dealers. But with the end of the harvest, Jude returns home, not particularly hopeful but taking things one day at a time.
Sophie's family has operated in a dysfunctional state since the death of her brother. Her father, the police chief, is prone to fits of rage and violence. Her mother exists in a mostly catatonic state, barely acknowledging the life going on around her. Sophie spends her time taking care of the household (cooking, cleaning, like a modern day Cinderella), while attending college classes to finish her social work degree, working part time at the hospital, and volunteering every Wednesday night preparing meals for the homeless at her church. Her life is busy, but empty of any meaningful relationship. Jude's return to town is a shock. Though she'd known he'd gotten out of prison, she never expected him to come home. When he starts volunteering at the Wednesday night meal, brought in by the kindly parish priest after his narcotics anonymous meetings, they have the chance to interact in a safe place, though it's not long before Sophie takes the bold step of following Jude home and persuading him into bed. They may have been apart for three years, but their feelings for each other have never died. Once Sophie initiates sex with Jude, he is not going to refuse her advances. Indeed, when he wasn't in a drug induced haze, Sophie was all he thought about. Though his feelings of love for her are also wrapped up in guilt and shame, Sophie's pure feelings for him and her forgiveness are a balm to his soul. They get into the habit of her visiting him Wednesday nights after their volunteer work and their love scenes are passionate and intense. While Jude might seem quiet and composed, he's got a wickedly sexy streak that comes out with Sophie and makes for some very steamy encounters between them. Though Jude makes it clear to Sophie that this is a temporary arrangement (if her father found out there'd be hell to pay), he can't resist the chance to be with her again, even if it's only a few hours a week.
While Jude works hard to take each day as it comes, Sophie starts to investigate the accident that caused the demise of their relationship. She never found out what really happened, losing her brother and her boyfriend on the same night. She befriends one of her father's officers and he helps her dig into the buried files. The tension waiting for someone to find out about their relationship made the second half of this story a real nail biter, especially as Sophie starts to uncover some disturbing details about the accident.
The realities of drug addiction are key to this story and will be heartbreakingly familiar to readers who have experienced this in their own families. Jude's fight to stay clean is a day to day work in progress, some days easier than others. While his goal in part is to prove to Sophie that he is worthy of her, it's really his own worth that is his motivation. He never wants to go back to that state of addiction that he used to live in, and will fight with everything in him to keep his recovery on track. His weekly meetings with Sophie and the friendship of the Shipley family keep him looking towards the future. This story will break your heart and stitch it back together again as Jude and Sophie find their way back to each other against the odds. 5 stars.

Book Info:

Publication: July 12, 2016 | Self Published | True North #2
She's the only one who ever loved him—and the only one he can never have.
Jude lost everything one spring day when he crashed his car into an apple tree on the side of the road. A man is dead, and there's no way he can ever right that wrong. He'd steer clear of Colebury, Vermont forever if he could. But an ex-con in recovery for his drug addiction can't find a job just anywhere.
For Sophie Haines, coming face to face with the man who broke her heart is gut-wrenching. Suddenly, he's everywhere she turns. It's hard not to stare at how much he's changed. The bad boy who used to love her didn't have big biceps and sun-kissed hair. And he'd never turn up volunteer in the church kitchen.
She knows it's foolish to yearn for the man who returned all the heartsick letters she wrote him in prison. But the looks he sends her now speak volumes.
No one wants to see Sophie and Jude back together, least of all Sophie's police chief father. But it's a small town. And forbidden love is a law unto itself.