Stealing Second by Alison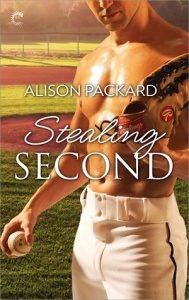 Packard: Katherine and Tom had been inseparable high school sweethearts, forming dreams and planning their future together. However, something happened resulting in them having different connotations of their breakup. And whilst they went off pursuing their own dreams, they never really got over the pain their breakup caused them.
Fast forward seventeen years later, Katherine and Tom find themselves working in the same major league baseball team, Blaze. Katherine now holds a high profile position handling the public relations of the team and athletes while Tom manages the team. They thought they had moved on and could handle the pain and emotions of seeing each other again but their past and the love they had for each other just kept reeling them in.
I've always enjoyed a good sports themed book but this went beyond that. You could just feel the pain that Tom and Katherine were holding in them, the love that Tom has for Katie that never went away, the sweetness from their young love as you read through their flashbacks. Stealing Second is about second chance with a true and rare love that was lost. Knowing their past and seeing them come together again just gave me lots of warm fuzzies. The sexy scenes were much more meaningful and despite so many years that had passed, the familiarity that they had with each other was hot and touching. I also loved how the story ended… it's really one of those few books that has the perfect heartwarming ending.
This is my first book by this author and I couldn't recommend it enough for all to check out. I will definitely pick up the rest of the books in this series.
Many thanks to Harlequin Junkie for an advance copy of this book in exchange for a honest review.
Book Info:

 June 22 2015 | Carina Press | Feeling The Heat #5
Katherine Whitton doesn't purposely avoid men and relationships, but she doesn't mind that side effect of immersing herself in her job with the San Francisco Blaze. Years ago she was betrayed by her one true love, and she's never fully recovered, though she's tried by building a new life in a city she loves.
It's taken seventeen years for Tom Morgan to get over Katie—Katherine now. Sober now and faced with the incredible opportunity to manage the Blaze, he thinks he'll finally be able to handle working with this beautiful woman without falling to pieces…as long as she doesn't get too close.
A crisis with the team's star pitcher forces Tom and Katherine to put in long hours together. Years of animosity melt away as the sexual tension between them ignites. But it'll take more than scorching kisses to avoid the wreckage of the past. And neither Tom nor Katie are sure they're ready to trust each other or risk their hearts for a second chance at happiness.