Stirring Attraction by Sara Jane Stone is book two in the Second Shot series and revolves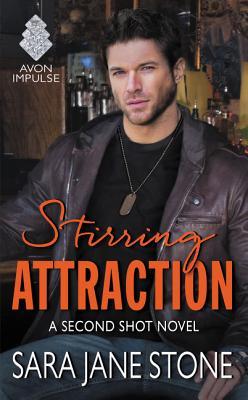 around Dominic Fairmore and Lily Greene. If you've read the previous book in this series, Serving Trouble, then Dominic should sound familiar to you. Dominic is Josie's sister and the one who was injured.
The story starts off with some background knowledge of Dominic and Lily's relationship. They were young, passionate, and in love with each other, but Dominic left to better himself and be a better man for Lily. He wanted to serve in the Army and eventually become a Ranger. He was always going to come back for Lily, though, but that all changed when he got hurt. Really hurt!
It's taken six years to get Dominic and Lily back together and all it took was a psycho with a knife to do it. Someone attacks Lily while she's out jogging and injures her pretty badly. Not only does she now have physical scars that remind her of her attacker but she has emotional ones, as well. Dominick comes home to be Lily's bodyguard but lets her know that's all he can be. He's broken and she doesn't need someone like him. But in the end, they both are broken and need each other.
Dominic and Lily stay true to each other, throughout all the distance. I thought that was a nice touch and made me appreciate their relationship a little better. For Dominic and Lily, there is no one else. All they need is each other, but in order to have a future together, they must let go of the fear and previous failures and start new.
Overall, I would definitely recommend this book to readers who enjoy second chances.
Book Info:

Publication: June 7, 2016 | Avon Impulse | Second Shot #2
When Dominic Fairmore left Oregon to be all he could be as an Army Ranger, he always knew he'd come back to claim Lily Greene. But after six years away and three career-ending bullets, Dominic is battered, broken, and nobody's hero—so he stays away. Until he learns Lily has been the victim of a seemingly random attack. He'll do anything to keep her safe . . . even go home.
Lily is starting to find a life without Dominic when suddenly her wounded warrior is home and playing bodyguard—though all she really wants is for him to take her. But she refuses to play the part of a damsel in distress, no matter how much she misses his tempting touch. He'll leave as soon as she's safe and Lily knows her heart will never heal.
But as attraction stirs to so much more, danger closes in. With more than Lily's heart at stake, Dominic can no longer draw a line between protecting Lily and loving her . . .